Top 20 Sales Blogs That You Must Follow in 2023
Here's our curated list of 20 top sales blogs you'll need to follow in 2023—to learn from some of the best and the brightest in the business. Go ahead and bookmark them. We too have.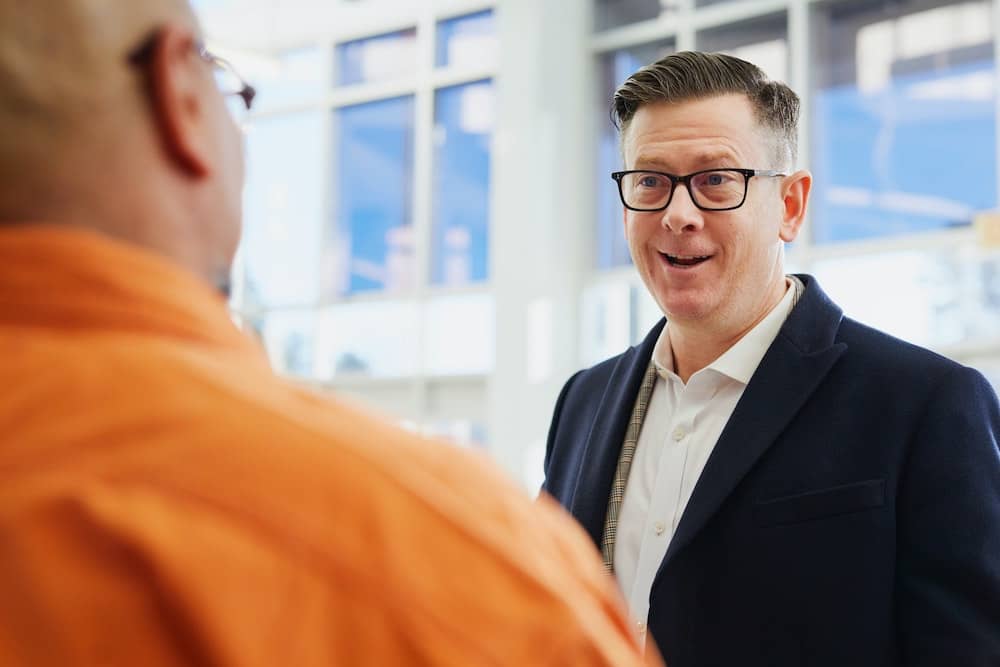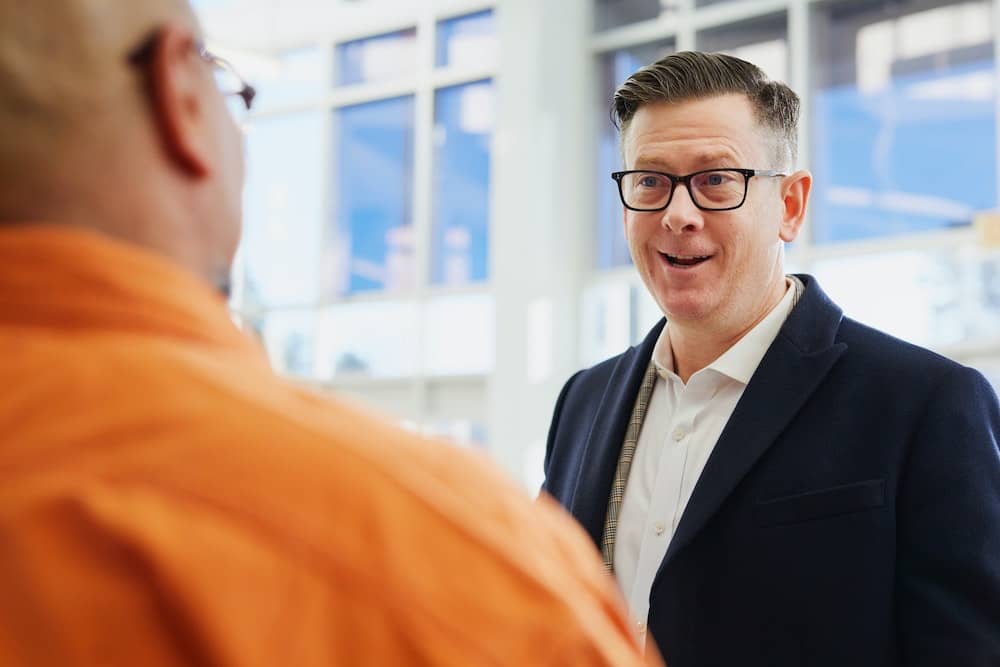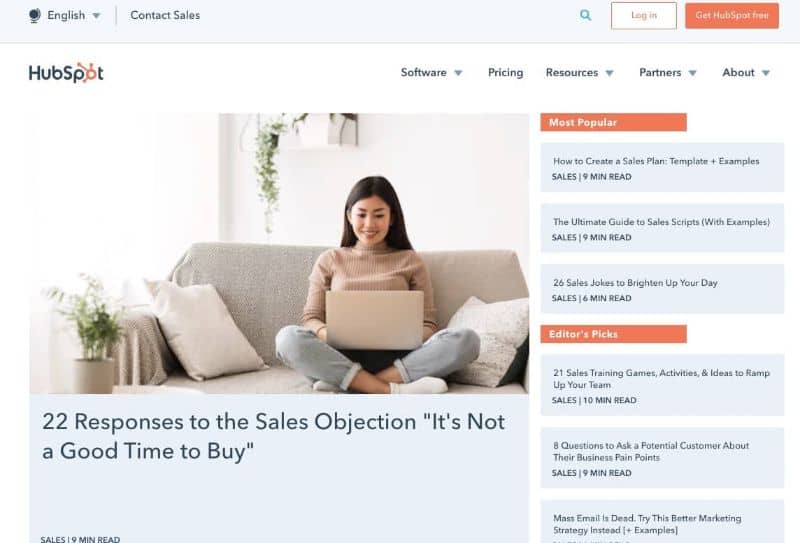 HubSpot is one of the world's most significant marketing and sales tools, with over 15,000 customers in 90 countries. Hubspot sales blog offers readers advice and sales preparation.

From drafting the perfect email subject line that leads to closures to negotiating an agreement, here you'll get all the advice, you need to reach or exceed your sales target. Authors include many of the sales world's best-known names, including Donald E. Kelly, Jeff Hoffman, Anthony Iannarino, Trish Bertuzzi, and more.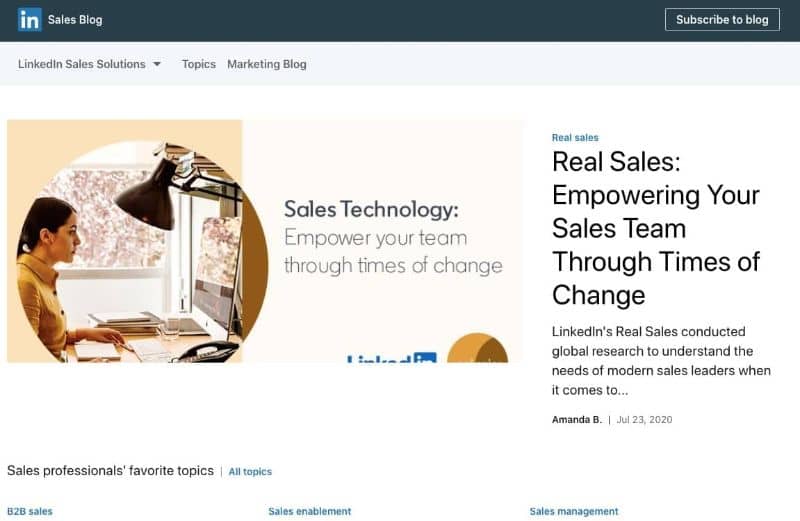 LinkedIn is another resource a sales guy can't disregard. The sales blog will make sure you utilize Linkedin as a sales platform to its full potential.  Social  Sales through networks like Linkedin should be a priority for sales teams. Subscribe to LinkedIn 's sales blog to get the latest social marketing news and tactics and get an update on universal best sales practices.

With a heavy emphasis on social sales, LinkedIn Sales Solutions helps sales reps remain up-to-date on the latest developments and strategies in the ever-evolving social selling environment.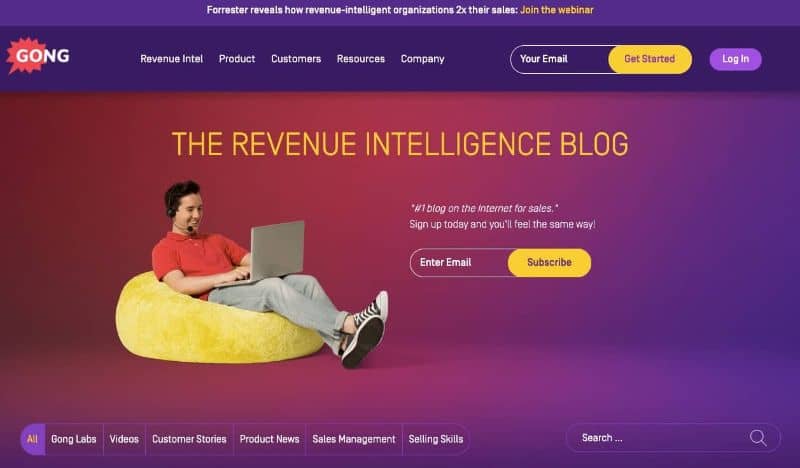 Gong.io's Gong Labs Blog gives you information, perspectives, and data from analyzing the world's largest database of AI sales conversations.

Gong blog releases data by analyzing hundreds and thousands of recorded and transcribed AI sales conversations so you can know from hard data what defines successful salespeople.  They usually publish about one post a week, concentrating on quality over quantity. Each is filled with sales strategies to help you reach your target.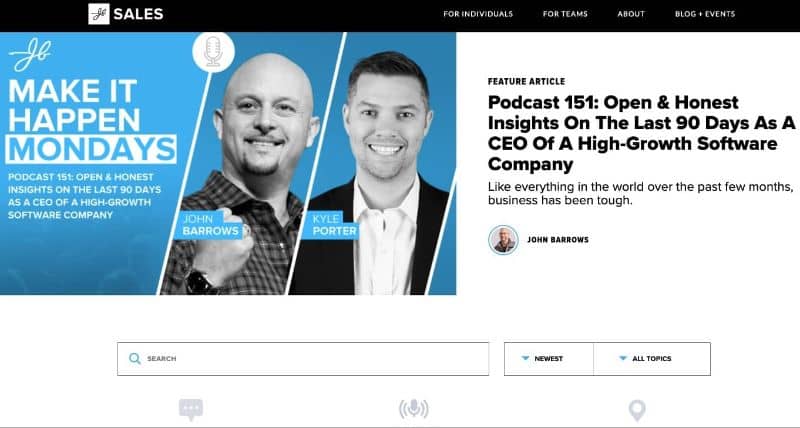 John Barrows created JB Sales in response to the tiny amount of formal accredited sales instruction for the sales guys. With decades of experience, he built on-demand and sales training services providing interactive sales education online, on-site, and remotely to companies and individuals.

John has been, for a good reason, one of the sales bloggers in the sales community.

His sales blog is a fantastic resource for new reps and veterans alike, filled with tales from his own deep sales experience. His narrative writing style and useful, humorous stories make his blog sales a joy to read and a valuable sales tool.

It's crisp and straightforward, providing practical guidance.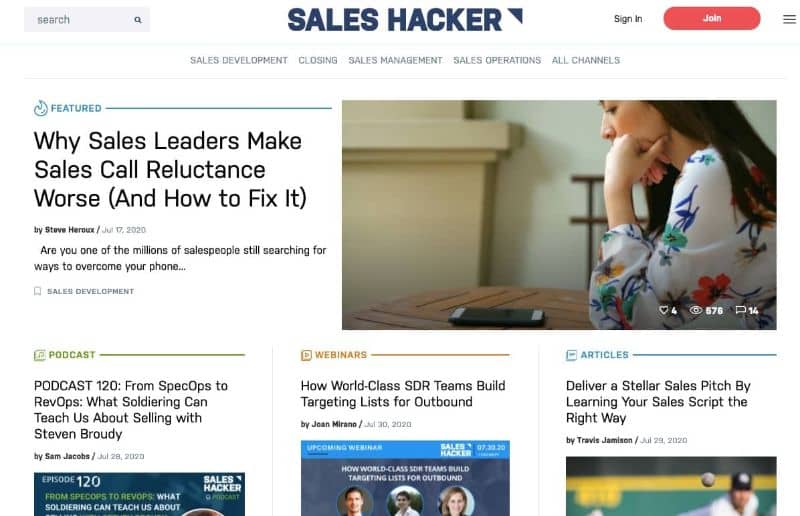 Sales Hacker is a major B2B sales network. Everything you find on Sales Hacker, from the podcast to the forum, is created by sales professionals for sales professionals to share what actually works.

They cover every subject, from prospecting strategies to successful coaching techniques, and more.

Sales Hacker also delves into the often-ignored sales supporting, and sales operations support positions.

For practical solutions proven in the field, this is a highly recommended blog.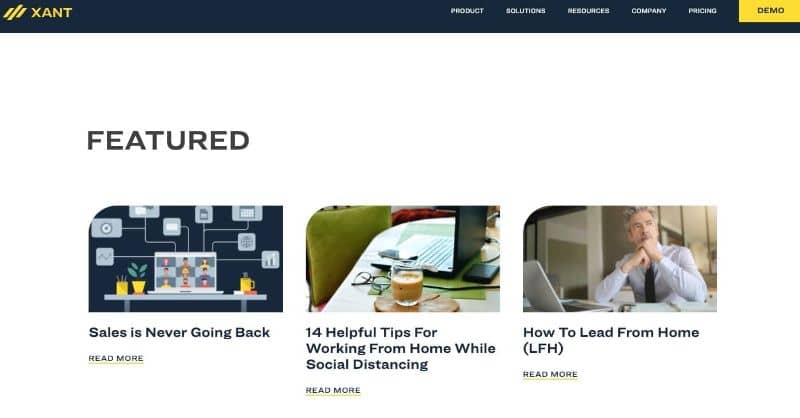 Xant.ai(formerly InsideSales.com) provides industry-leading sales optimization platform on Neuralytics, a self-learning predictive and prescriptive engine. Their Xant sales blog contains articles related to sales motivation, sales preparation, enhancement of sales, and other such topics.

XANT's blog is a fantastic tool for just about all sales roles. Published regularly, they post how-to's, reports, and posts on both sales and marketing.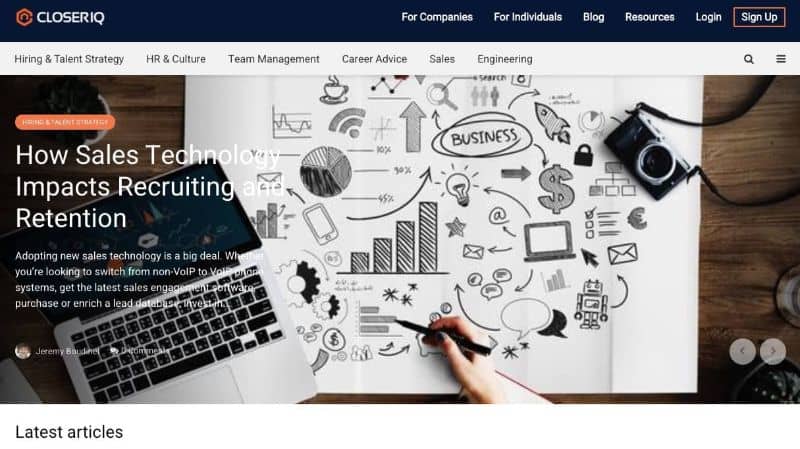 CloserIQ 's network of over 60,000 sales leaders very proactively discuss their selling tactics with the sales community. As a sales recruiting business, their blog is ideal for salespeople and recruiters focused on attracting top sales talent and sales operations. Their weekly newsletter containing the insights from CloserIQ's network of 60,000+ sales leaders is solid.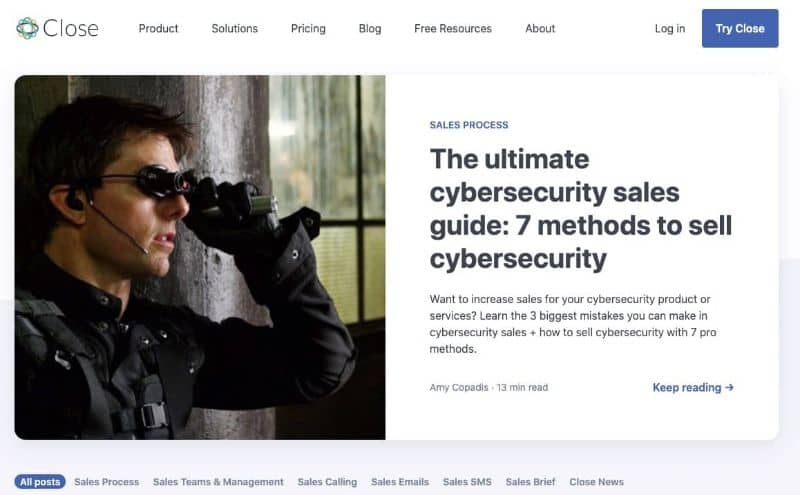 This blog offers startup sales tips and product updates from Close.io, a popular CRM for startups and SMBs. You can learn B2B selling and closing bigger deals effectively with their sales content.

They also have sales books, models, checklists, files, etc.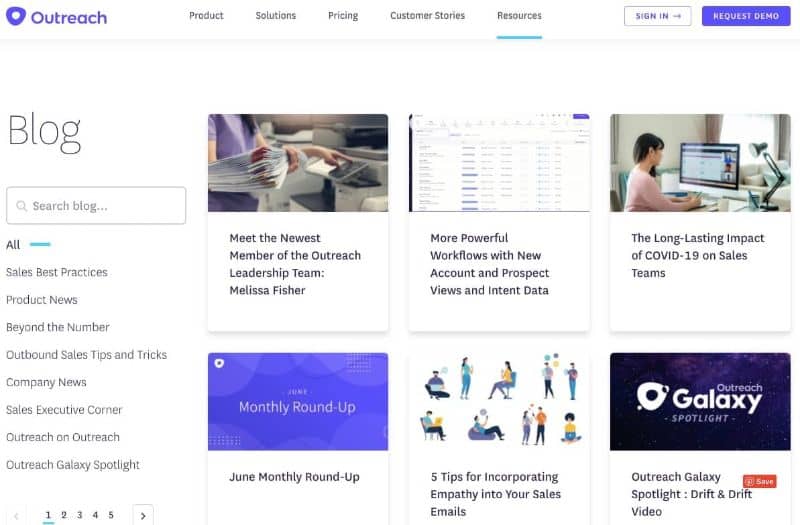 For a sales rep reviewing every part of the sales process, this one is an excellent blog. There's plenty of sales best practices here, with particular attention to outbound sales processes. From precise messaging and everything else outbound, it gets it right.

There's also a tiny section of this sales blog devoted to experiences from salespeople— folks who took some profound life lessons and applied them to their sales careers. It's a sales blog with a twist you won't find elsewhere.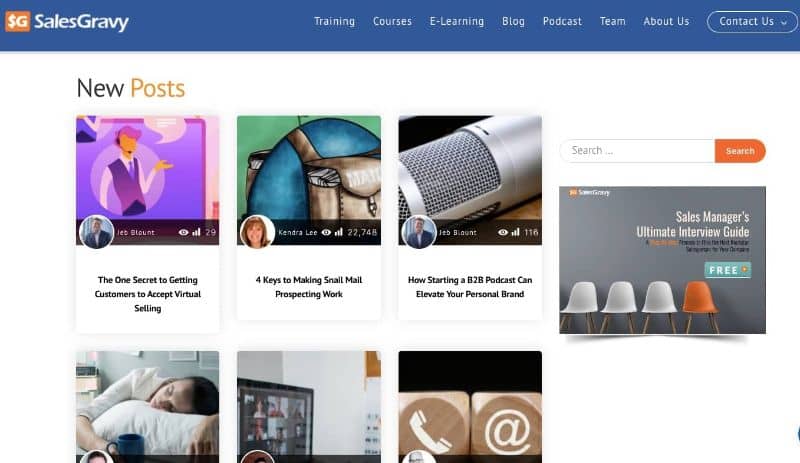 Jeb Blount, Fanatical Prospecting's author, and a sales acceleration specialist, posts thousands of free articles, videos, podcasts, tips, training, and advice from top sales experts on his blog.

You get free access to over 1700 sales content, videos, and podcasts from top sales writers, coaches, and global sales leaders.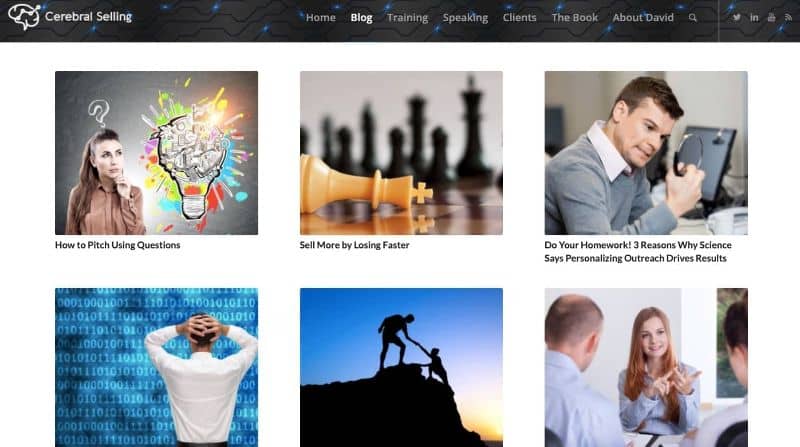 David Priemer brings his own analytical approach to the sales environment, offering articles far beyond basic lists and tips in his sales blog. He looks into modern studies, psychology, and techniques to help improve your thought and selling.

His distinctive approach includes mixing fundamental research, empathy, and execution concepts.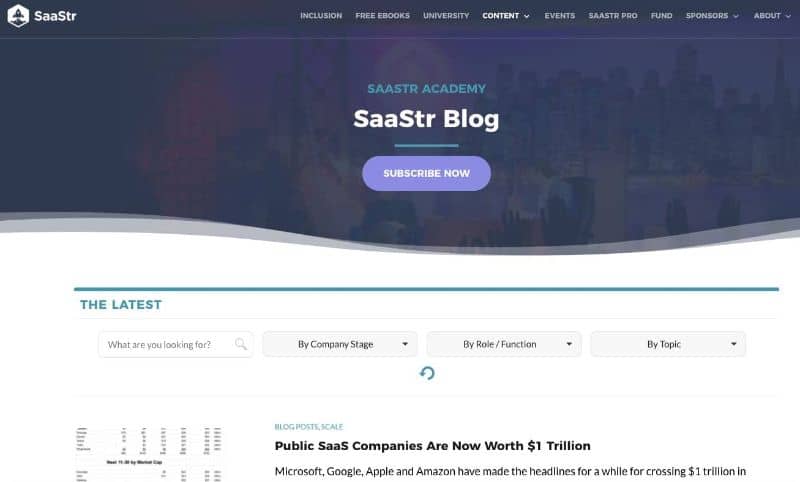 Jason M. Lemkin, Venture Capitalist, and SaaS enthusiast started SaaStr as a simple WordPress blog featuring his answers to questions he got on Quora. Today, it's one of the world's biggest SaaS developers and entrepreneurs.

Readers should expect large-scale posts on the development of SaaS companies and tactical guidance for the SaaS sales leaders on how to get more from your team.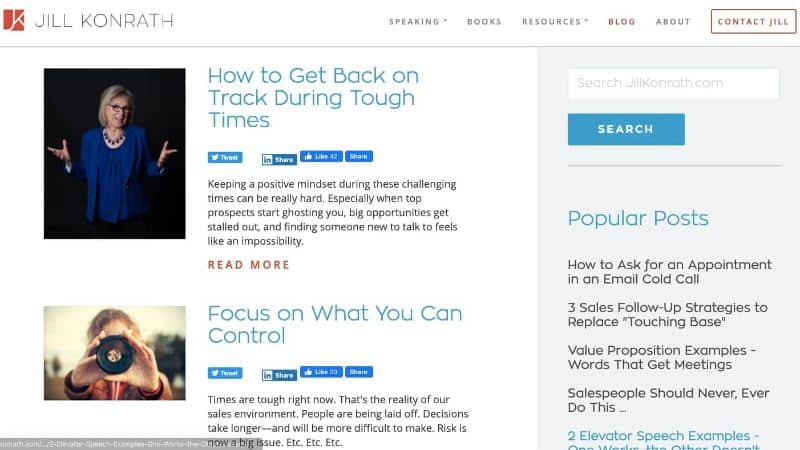 Jill Konrath, author of "Selling to BIG Businesses," "SNAP Selling: Speed Up Sales and Win More Business with Today's Frazzled Consumers," "Agile Selling," and "More Sales, Less Time," is an expert in managing dynamic sales. She makes it easier and simpler for prospects and sales reps alike.

Her posts also contain stories from her life, making them connected and engaging.

This sales blog is full of tips, and Jill introduces each using a great story. Most sales blogs don't rely on the personalities of their authors, but Jill blends first-hand experiences and sales tips like a master storyteller, making her a perfect blogger. She writes the blog with sales professionals in mind, and her most popular subjects include sales prospecting, success attitude, and smarter work.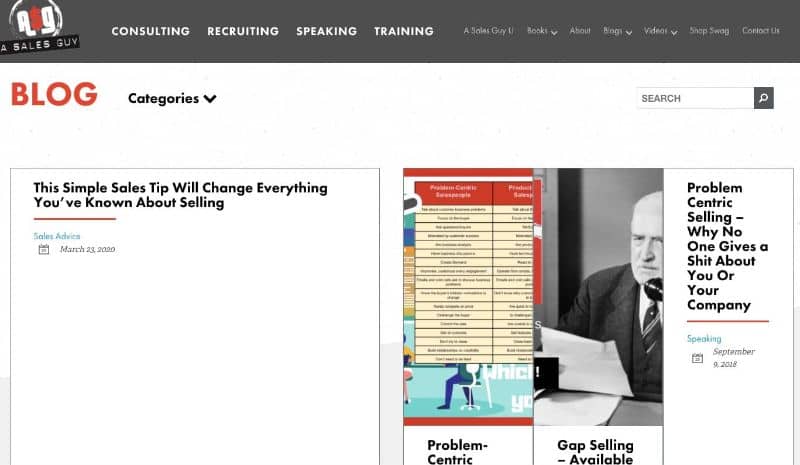 Jim Keenan is a well-known author and writer and also a founder of  A Sales Guy.

This sales blog provides several valuable sales tips, but what really separates it is its emphasis on attracting and hiring top talent. This blog is a wonderful resource for sales leaders looking to expand their team.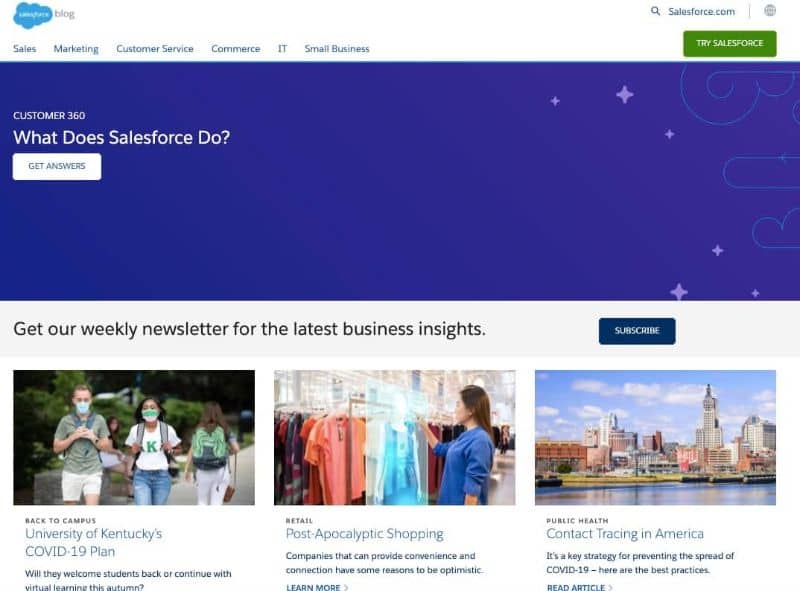 Salespeople have used Salesforce more than any other sales platform. They have invested heavily in building a top-of-the-line blog/podcast sales only for salespeople. Quotable distinguishes itself from the rest of this list in 2 areas: diversity of authors and length and breadth of their content.

Quotable puts together some of the biggest names in one place, providing one of the most diverse subjects and viewpoints on this list. Such sales blogs aren't to be missed.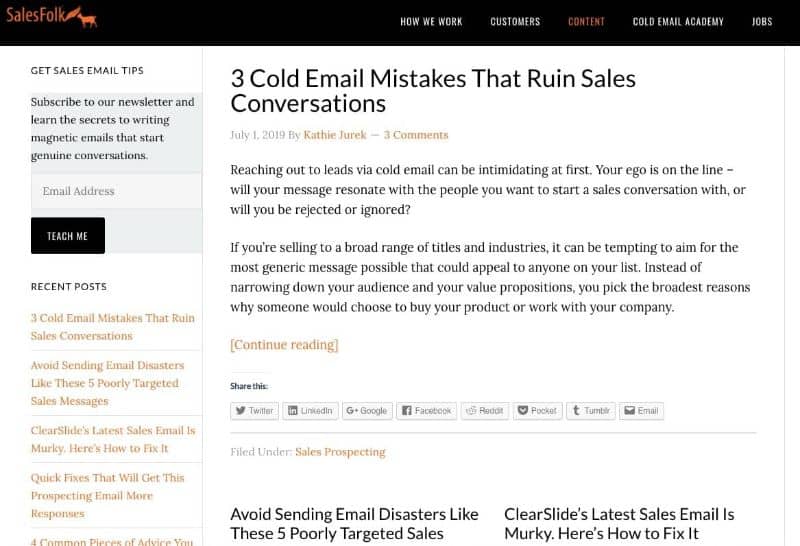 You've certainly seen the difference in your open and reply rates by using buyer-oriented, personalized emails versus generic emails that just focus on you and your company.

And for top sales professionals, producing an attention-grabbing message can be challenging. Heather Morgan's blog offers outstanding examples (both good and bad ones), concise suggestions, and innovative ideas.

From inbound to account-based selling and prospecting, this blog offers insights and tools for marketing and sales professionals alike. It also features a variety of exclusive shows, including "How I Work" and "App of the week" and comes in different formats like video and podcasts.

Look no further if you are searching for a regular source of B2B sales and marketing insights: Heinz Marketing publishes a new article every day. You can discover thought-provoking posts about engaging your customers, building out your pipeline, and developing a successful content marketing plan.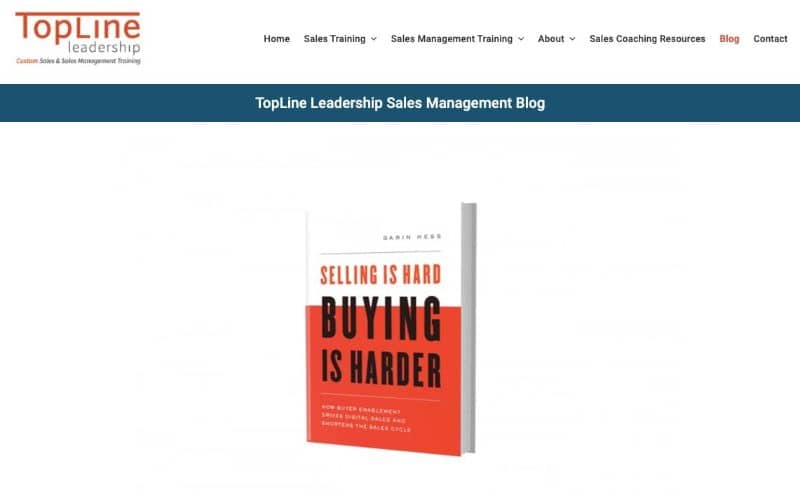 TopLine Leadership Blog focuses on sales motivation. A sales team's success mostly depends on their mindset. Keeping them excited and dedicated, however, is not easy — particularly as you also seek to identify their vulnerabilities, improve their strategies, and make the playbook as robust as possible. If you're trying to get an unengaged salesperson excited or motivate everyone to hit their numbers, you'll find the advice you need here.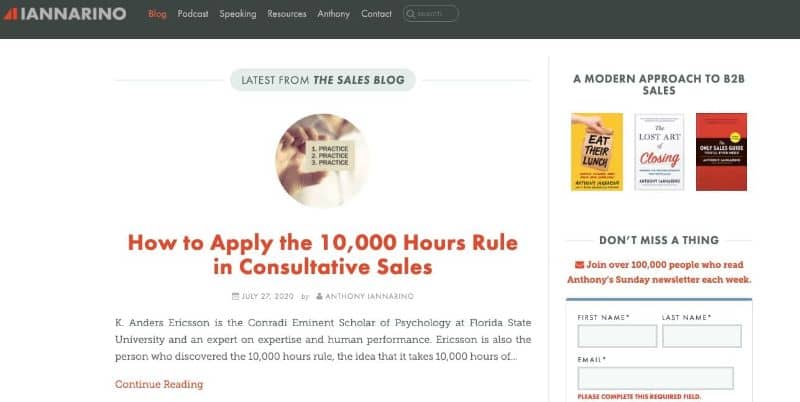 Anthony Iannarino is a leading international speaker, writer, and sales expert. On his blog, The Sales Blog, he shares regular sales tips and his acute observations. His selling tips are refreshing and concise, making his style of writing easily digestible and relatable.

He has a no-nonsense approach to writing, which is a refreshing shift from the typical blog post on sales.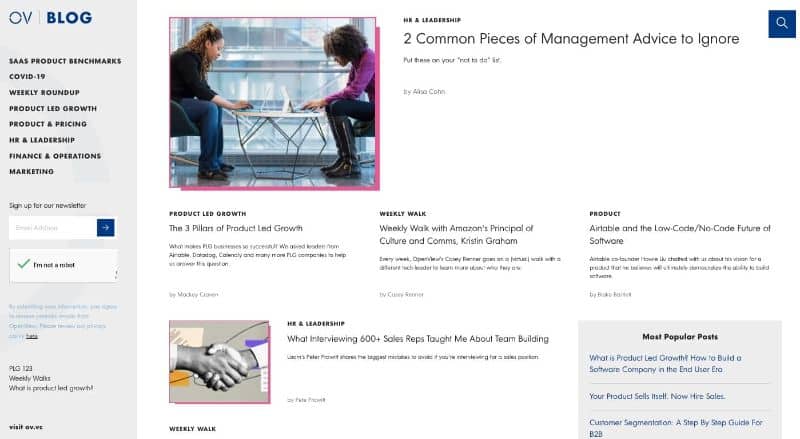 OpenView Investment Partners is a growth-stage funding group with expertise supporting early-stage tech companies in investing and developing sales teams.

They share insights and actionable advice for sales managers on their blog — including using metrics to scale up the sales team, selling to corporate customers, product-led growth, and much more. Their selling blog offers the same realistic and strategic guidance they provide to their portfolio companies. Their various authors cover a wide variety of viewpoints and provide concrete advice back to sales professionals.
---