"The difference between good product marketing and great product marketing is data-driven insights."
Building a strong product marketing organization is crucial for any tech company that wants to succeed in today's competitive landscape. As a former product marketing leader at Facebook, I've seen firsthand what it takes to create an effective product marketing team.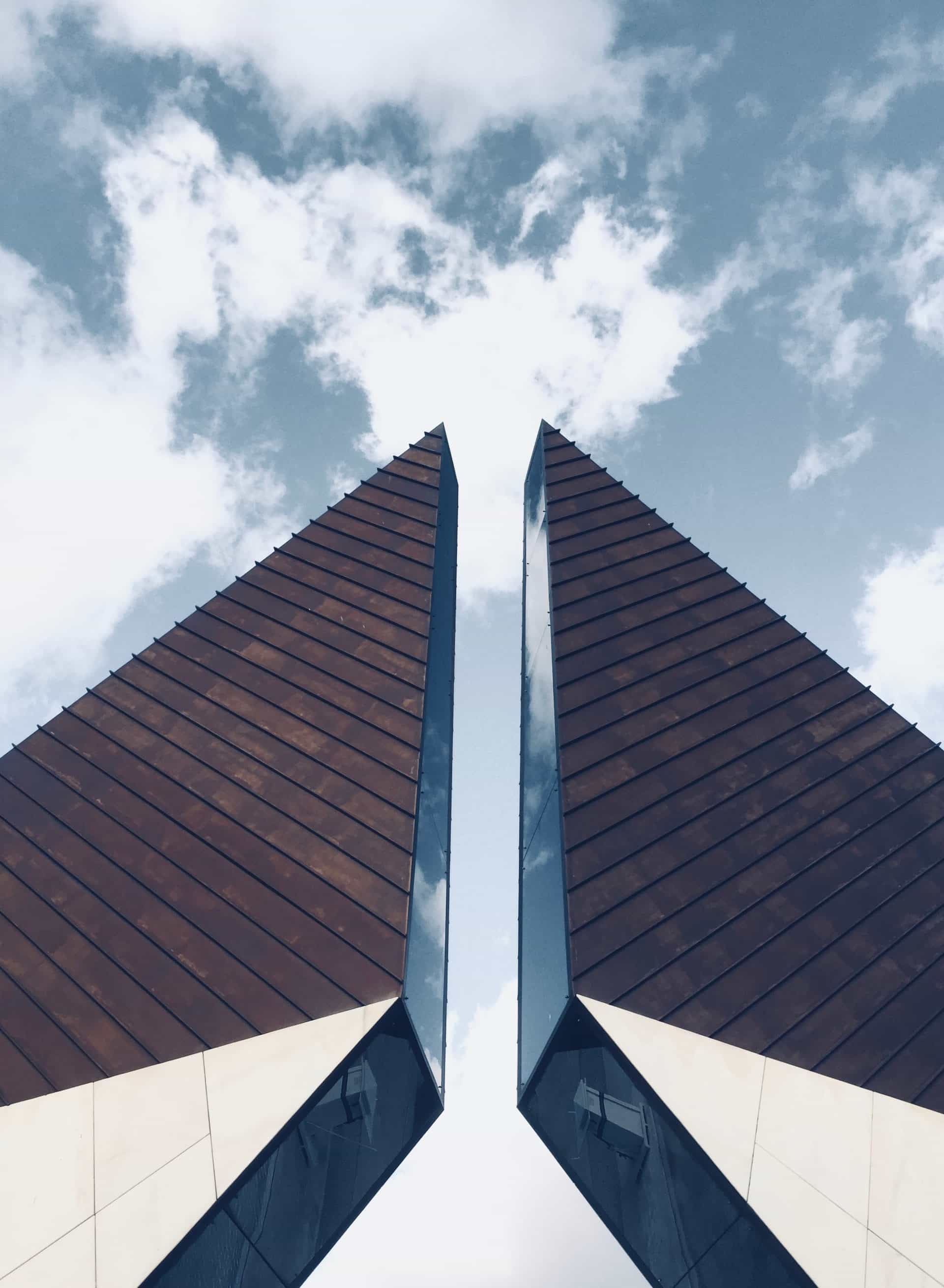 After working with numerous startups and tech giants over the years, I've identified 3 core pillars that the best product marketing teams have in common. Get these pillars right, and you'll be well on your way to product marketing excellence.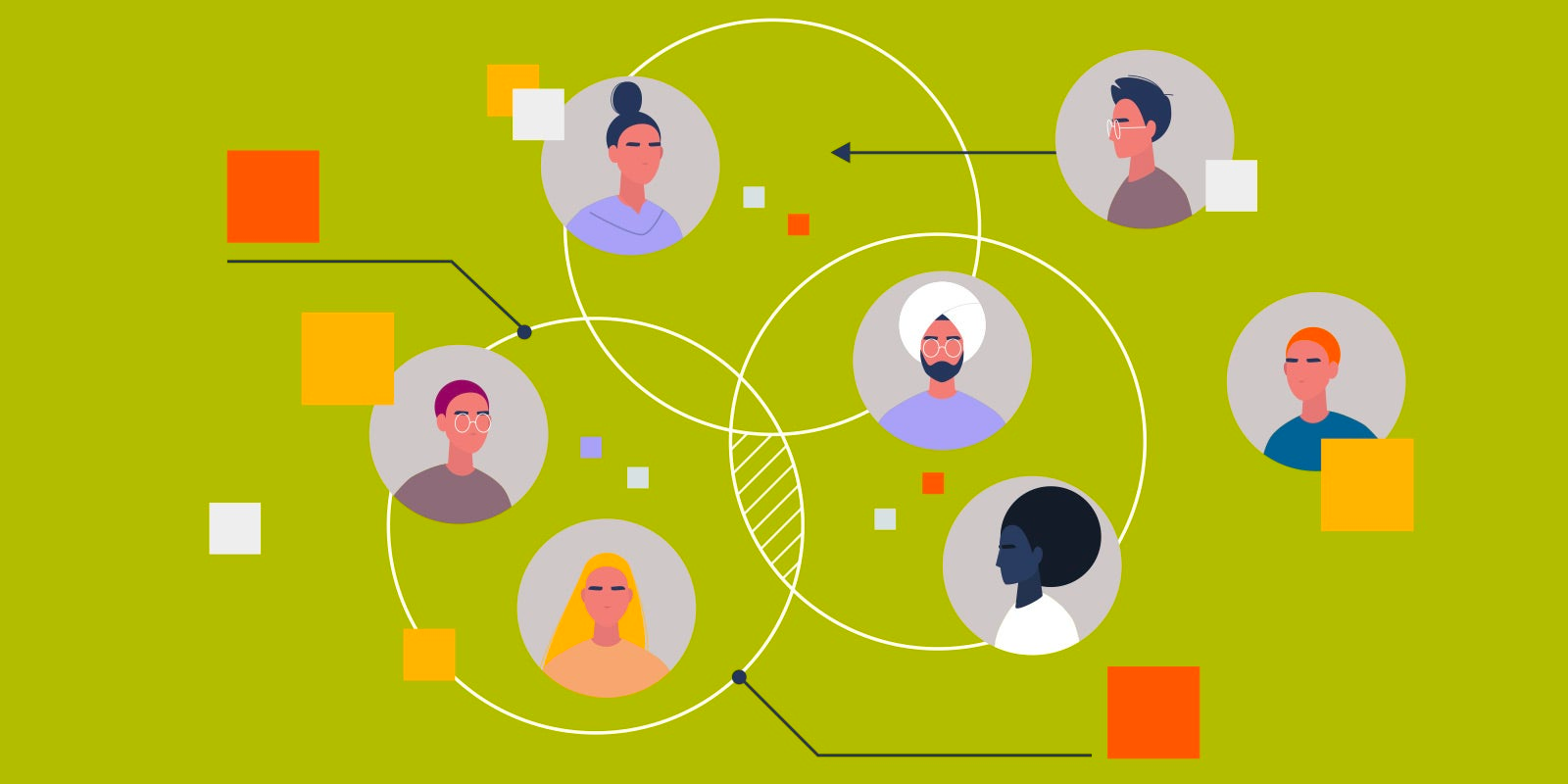 Pillar #1: Specialized Structure
🇪🇺
Segment your product marketing team into sub-teams aligned to your products and markets.
🧑🏽‍💼
Develop job descriptions and requirements for each specialized role.
📊
Create an RACI matrix to clarify ownership across product marketing.
The first pillar is having a specialized organizational structure that maps to the company's products and markets. Too often, I see product marketing teams that are just a motley crew of random marketers rather than a strategic organization.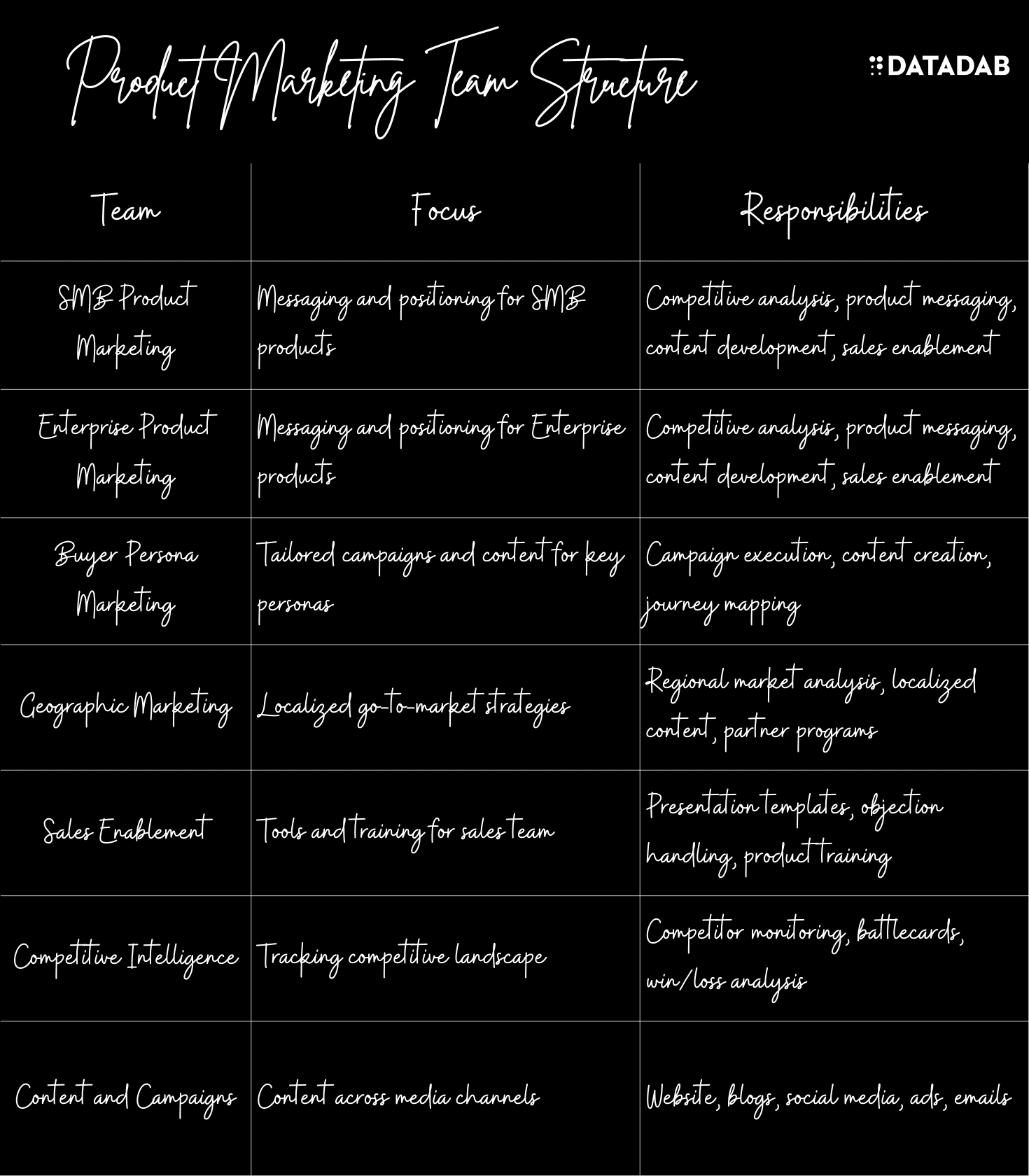 To build an effective structure, you need to divide product marketing into specialized sub-teams. Here are the key roles you need:
Product Marketers: Align closely with product managers to drive messaging, positioning, and go-to-market strategies for specific products.
Segment Marketers: Focus on specific buyer personas, verticals, or geographies that the company targets.
Enablement: Create tools and processes to empower sales and share best practices across teams.
Market Intelligence: Conduct ongoing market research, competitive analysis, and customer surveys.
Content: Produce product collateral, sales decks, website copy, guides, and other content assets.
With specialized sub-teams like these, you can ensure expertise, alignment, and execution across the breadth of product marketing responsibilities.
Here's an example structure:
| Team | Focus |
| --- | --- |
| SMB Product Marketing | Messaging, positioning, launches for SMB products |
| Enterprise Product Marketing | Messaging, positioning, launches for Enterprise products |
| Buyer Persona Marketing | Campaigns, content, and tools tailored to IT, Finance, Marketing, etc. buyer personas |
| Geographic Marketing | Go-to-market strategies for North America, APAC, EMEA, etc. |
| Sales Enablement | Sales deck templates, battlecards, training programs |
| Competitive Intelligence | Competitor monitoring, analysis, and response strategies |
| Content and Campaigns | Website, blogs, guides, ads, emails, social, etc. |
With each sub-team owning a clear piece of the puzzle, you reduce gaps, duplication, and misalignment.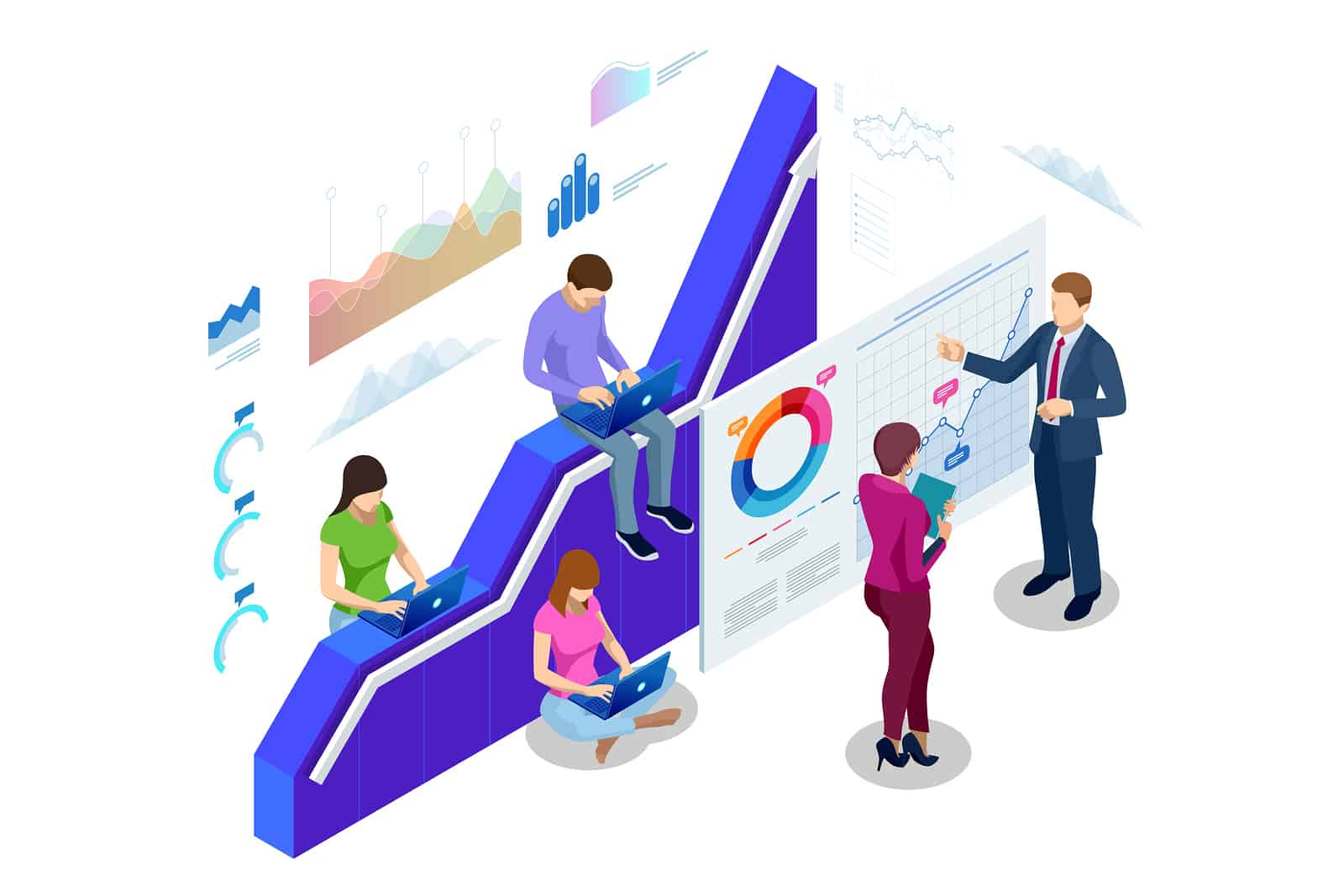 Pillar #2: Insights Engine
📅
Build out a research calendar to close critical information gaps.
🗞️
Formalize protocols for sharing ongoing research readouts and reports.
📈
Leverage both qualitative and quantitative research methodologies.
The second pillar is developing a insights engine that equips your product and segment marketers with the key information they need to craft effective strategies and messaging.
Many product marketing teams fly blind without a steady stream of insights into customer needs, competitive threats, market trends, and more. To fix this, you need to build an insights generation machine.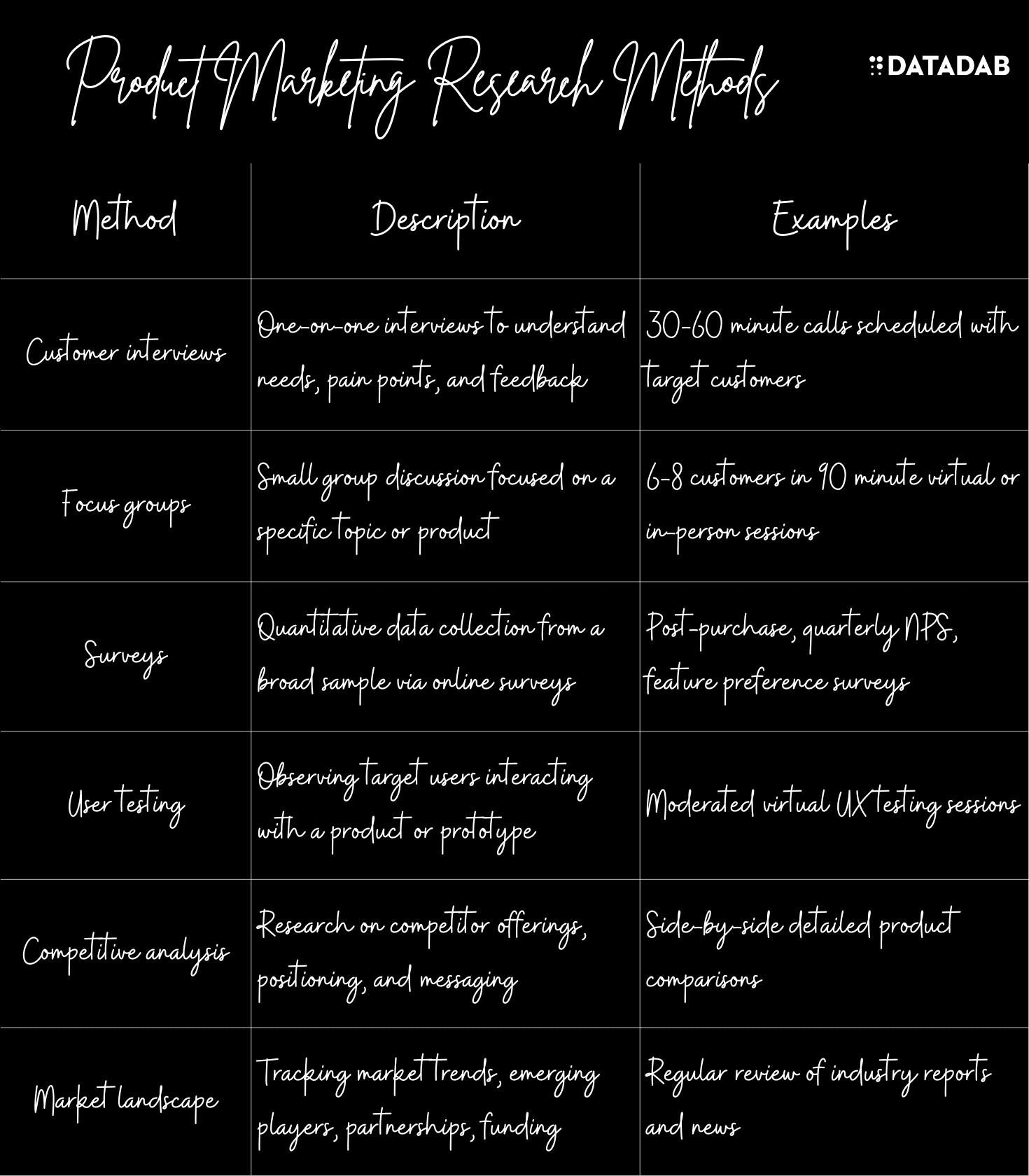 Critical elements include:
Qualitative research: Ongoing customer interviews, advisory boards, user testing.
Quantitative research: Surveys, NPS, segmentation analysis, conjoint analysis.
Win/loss analysis: Reviewing why you won vs. lost specific deals.
Usage metrics: Analyzing product usage trends.
Customer analytics: Identifying adoption lifecycles and retention.
Market monitoring: Tracking competitors, adjacent innovations, partnerships, and acquisitions.
Analyst landscape: Developing relationships with key analysts to inform roadmaps and leverage coverage.
The output of this insights engine should fuel every facet of product marketing, from messaging to features to competitive differentiation. The best insights teams use an orchestrated research calendar to proactively fill knowledge gaps versus conducting ad-hoc research.
I recommend staffing an insights manager and researcher within the product marketing organization. They can work cross-functionally with UX researchers, data scientists, and other groups to funnel relevant insights to product and segment marketers.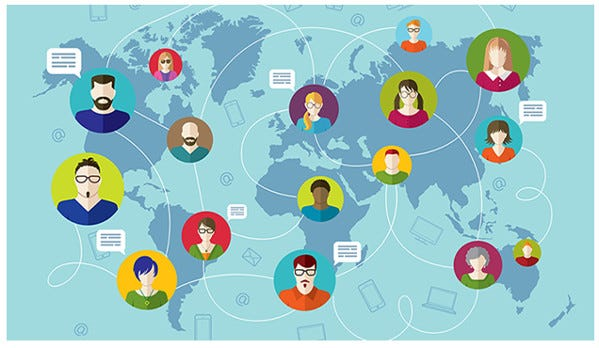 Pillar #3: Distributed Ownership
The final pillar is instilling a culture of distributed ownership across your product marketing team. Everyone needs to think holistically about the customer experience and supporting revenue growth - not just their specific functional area.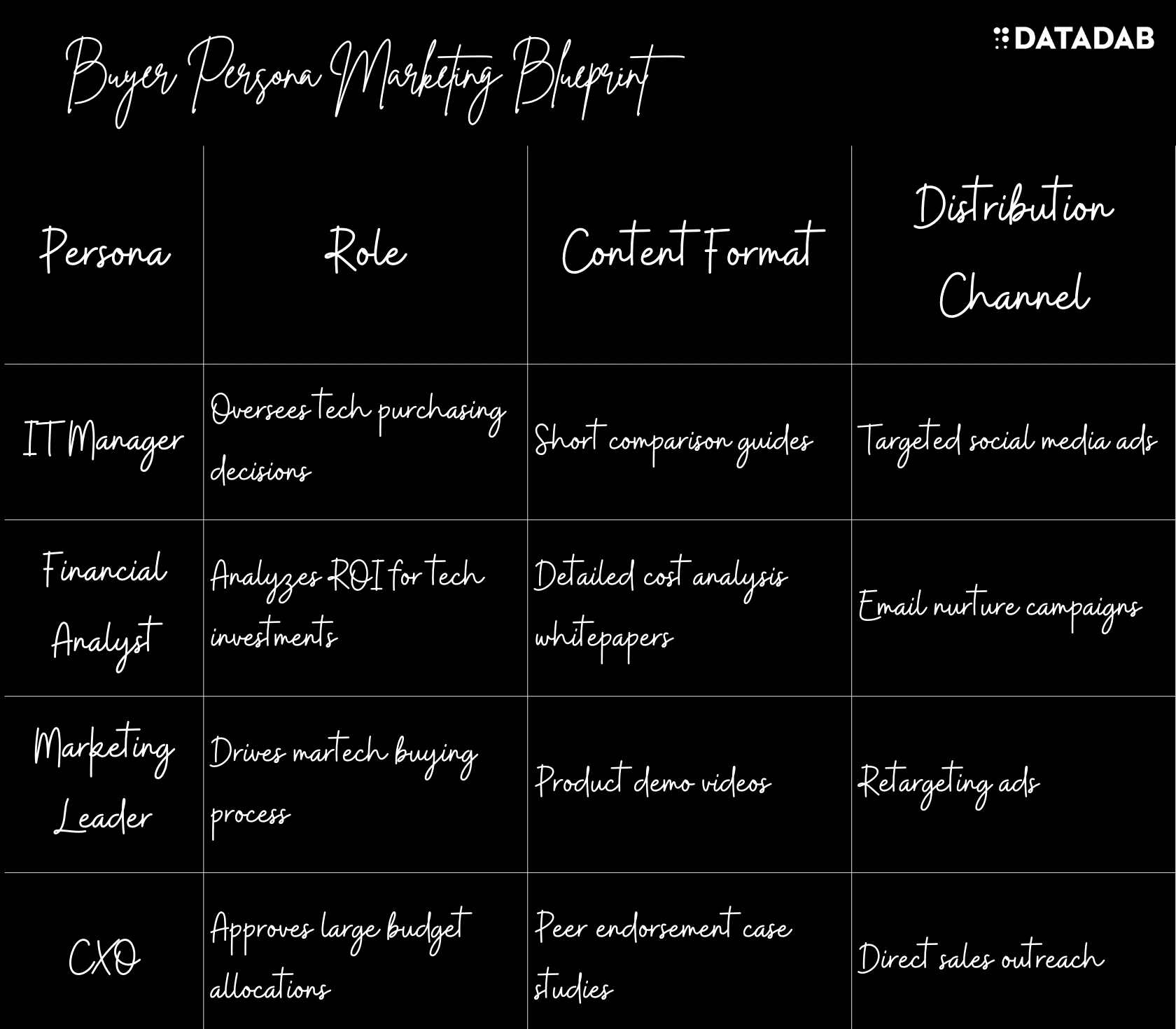 To encourage this, I recommend:
Customer journey mapping sessions: Bring teams together to map how a buyer engages across channels and touchpoints. Identify gaps or inefficiencies in the current experience.
Revenue reporting: Share revenue metrics across product marketing to reinforce broader company goals. Celebrate wins collectively.
Rotational assignments: Have team members rotate across different sub-teams for exposure to other areas.
Unified planning: Conduct integrated planning across sub-teams to align activities and prevent silos.
Incentives: Incorporate company/revenue goals into product marketing incentives along with team objectives.
Marketing ambassadorship: Empower everyone to act as ambassadors for the marketing team with both internal stakeholders and customers.
With distributed ownership, you gain a product marketing team that is interconnected versus a collection of disparate parts. This builds mutual support, collaboration, and a shared purpose.
In Closing
A strong product marketing organization is critical for modern B2B companies. By implementing specialized sub-teams, an insights engine, and distributed ownership, you can set your product marketing team up for ongoing impact and success.
The best product marketing leaders take a rigorous, data-driven approach to their structure, processes, and culture. If you make the investment to build a world-class team, you'll reap the rewards through accelerated product adoption, customer loyalty, and revenue growth.
---
1. What are the core responsibilities of product marketing?
Product marketing typically owns competitive positioning, messaging, launches, and sales enablement for products. Key responsibilities include:
Defining product value proposition, messaging, and positioning
Developing sales tools like presentations, battlecards, and objection handling guides
Creating product collateral like one-pagers, brochures, case studies
Driving product launches and product marketing campaigns
Providing training and preparation for sales teams
Monitoring competitive landscape and analyst perceptions
Conducting market research and synthesizing customer feedback
Collaborating with product management on requirements and roadmaps
2. What skills make a great product marketer?
Exceptional product marketers blend strategic thinking with creative execution and technical aptitude. Important skills include:
Strong writing and content development abilities
Data-driven analytics using both qualitative and quantitative methods
Technical aptitude to deeply understand product capabilities
Strategic thinking to position products advantageously
Project management and cross-functional collaboration
Ability to distill complex ideas into simple, engaging messaging
Flair for developing compelling content like presentations, demos, and campaigns
3. What is typically included in a product marketing plan?
A product marketing plan is an overview of the key strategies and tactics that will bring a product to market successfully. It typically includes:
Target buyer personas, market segments, and use cases
Value proposition and key messages
Competitor analysis
Content strategy including collateral, webpages, and tools
Events plan and roadshow opportunities
Analyst relations plan and materials
Sales enablement plan with training, collaterals, and talking points
Launch plan detailing positioning, announcements, early access, etc.
Budget for marketing programs and campaign execution
KPIs and metrics for tracking performance
4. How should product marketing teams be structured and staffed?
Effective organizational structures divide product marketers into sub-teams focused on specific product lines, market segments, regions, and functional areas. Typical roles include:
Product marketers aligned to product/engineering teams
Segment marketers focused on buyer personas or industries
Market intelligence for research and analytics
Content teams for collateral development
Campaigns teams for integrated programs
Sales enablement focused on internal enablement
Sub-teams should have dedicated managers. Staff seniority ranges from associate to director level depending on experience. VP-level leadership provides oversight.
5. What are some best practices for product launch execution?
Successful product launches require careful planning and cross-functional coordination. Best practices include:
Develop pre-launch advisory or beta testing groups to gather feedback
Brief sales team early on positioning and equip them with launch tools
Craft press release, website content, FAQs, data sheets, sales decks, and demos
Identify relevant tradeshows, conferences, and events for launch promotion
Executes integrated campaigns across content, social, email, advertising, and PR
Develop proactive influencer and analyst relations outreach
Set up product demos and free trials to drive engagement
Plan promotional offers, discounts, and bundles to incentivize adoption
Staff cross-functional launch team for smooth end-to-end execution
6. How can product marketing help drive sales productivity and effectiveness?
Product marketing is a sales engine when done right. Tactics to boost sales productivity include:
Equipping sales with compelling presentations, battlecards, and objection handlers
Conducting extensive product, competitive, and messaging training
Arming sales with targeted collateral for each buyer persona
Providing conversation guides for common customer scenarios
Tagging along on sales calls and providing coaching and feedback
Creating sales incentive programs around key product initiatives
Tracking sales metrics and funnel health to optimize enablement
Conducting win/loss analysis and sharing insights with sales
Managing tools like Salesforce and CRMs to maximize impact
7. What types of content and campaigns work best for product marketing?
Impactful content formats include:
Product guides, brochures, and data sheets
ROI and TCO analysis reports
Customer case studies and testimonials
Analyst reports and leadership profiles
Competitive comparison guides
Product blogs, demo videos, and podcasts
Whitepapers diving deep on use cases
Webinars, events, and tradeshow presentations
These assets can power campaigns like:
New customer nurture series
Retargeting ad sequences
Segment-specific email campaigns
Lead gen promotions and gated resources
Sales follow-up and renewal playbooks
Customer storytelling and referrals programs
Seasonal and event-based campaigns
8. How should product marketing teams track impact and metrics?
Key performance indicators for product marketing include:
Content engagement such as views, downloads, shares
Campaign metrics like email open rates and content consumption
Website traffic and conversions driven by campaigns
Lower funnel conversion metrics from raw leads to SQLs
Sales metrics like deal velocity, sales cycle compression, and win rates
Product adoption and retention benchmarks
Survey data, NPS, and customer satisfaction
External recognition such as awards, press, and analyst reports
Teams should focus on trend data over isolated metrics. Impact should tie back to overarching company revenue goals.
9. What tools are most important for a product marketer's stack?
Essential tools include:
Collaboration: Slack, Microsoft Teams
Project management: Asana, Trello, Jira
Content creation: Google Docs, Dropbox Paper, Canva
Design and video: Adobe Creative Suite, SnagIt, Camtasia
Email marketing: MailChimp, Constant Contact, HubSpot
Website and landing pages: WordPress, Unbounce, HubSpot
Analytics: Google Analytics, Amplitude, Mixpanel
Marketing automation: Marketo, Eloqua, Pardot
CRM and sales enablement: Salesforce, Gong, Seismic
10. How can product marketing roles grow into leadership positions?
Aspiring product marketing leaders should:
Develop broad experience across different sub-teams
Take on leadership opportunities like event planning or mentorship
Drive collaboration across sales, product, engineering, and customers
Become experts in research, competitive intelligence, and sales best practices
Proactively identify process improvements and optimize workflows
Mentor and develop junior team members through 1:1s and training
Track record of impact through metrics and business outcomes
Gain management experience leading teams and projects
Develop executive presence and storytelling for the C-suite
With this breadth of expertise, product marketers can demonstrate value and leadership potential. Obtaining an MBA can also provide business acumen to complement product marketing experience.