Best Account-Based Marketing Software in 2023
Below mentioned ABM platforms are some of the software that we believe are the best in their categories.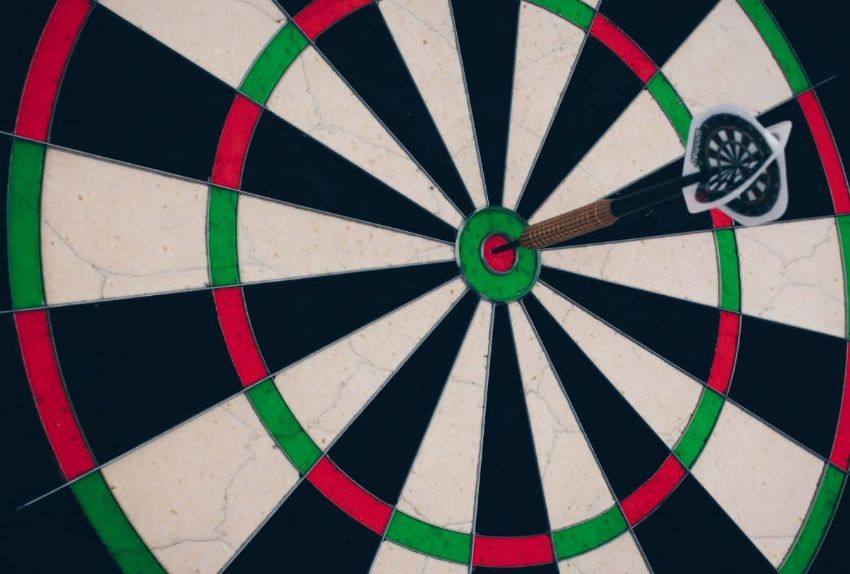 What is ABM or Account-Based Marketing?
Account-based marketing is a technique that guides your marketing efforts towards the target accounts(customers). ABM requires coordination between sales and marketing teams. The personalization at the account level means the sales and marketing must be aligned on account-specific communications. The outcome? Increased revenues in a shorter period of time. ABM marketers work closely with sales to identify key opportunities and then customize strategies and messages within target accounts for the purchasing team.
ABM assists your company and communicates with high-value accounts as if they are individual markets. You will see greater ROI and an increase in customer loyalty through the personalization of all communications, content, and campaigns tailor-made to such accounts.
Account-based marketing enables you to get rid of smaller and unqualified leads early and ensure that marketing and sales are thoroughly aligned. In return, your team will be able to jump into engaging with these accounts much quicker.

What is the benefit of ABM?
This well-thought-out approach matters at these crucial times when buyers are insisting on an approach tailored to their businesses and even their own personal interests. ABM ensures that marketing and sales involve each person on a personalized basis within the purchasing team. For marketing and sales efforts on a few selected, high-value accounts, a personalized approach is indispensable. If you personalize well enough, buyers will be more accessible and less likely to ignore your content and communications.
In a nutshell, account-based marketing helps:
Align marketing and sales
Maximize the relevance of your business among high-value accounts
Provide consistent customer experiences
Measure your RoI
Simplify sales cycle
Boost growth through existing accounts
How do account-based marketing tools work?
Sales intelligence platforms often contain missing or irrelevant information. As a solution, ABM platforms rely on feeds from automatically generated account data. The data supplied vary widely across channels but may include media references, social media mentions, web, and search activities of employees. Account intelligence platforms deliver these data to interpret purchasing signals. For instance, it will notify marketers when a considerable investment on a target account is made or when employees of an account start looking up similar products that you sell.

Due to this shift towards big marketing data, marketers are now burdened with industry noise rather than interpretable purchase signals. Many ABM tools have now built leading scoring or leading qualifying systems to direct the marketers through their ideal accounts to make platforms more useful.

Best Account-Based Marketing Software
As a marketing agency, we have the luxury of trying out a variety of marketing tools and software. Sometimes for our own internal use, other times for helping the software setup for clients. Below mentioned ABM platforms are some of the software that we believe are the best in their categories.

Marketo
Hubspot
Lean Data
Engagio
Terminus
Triblio

Worth Checking Out
---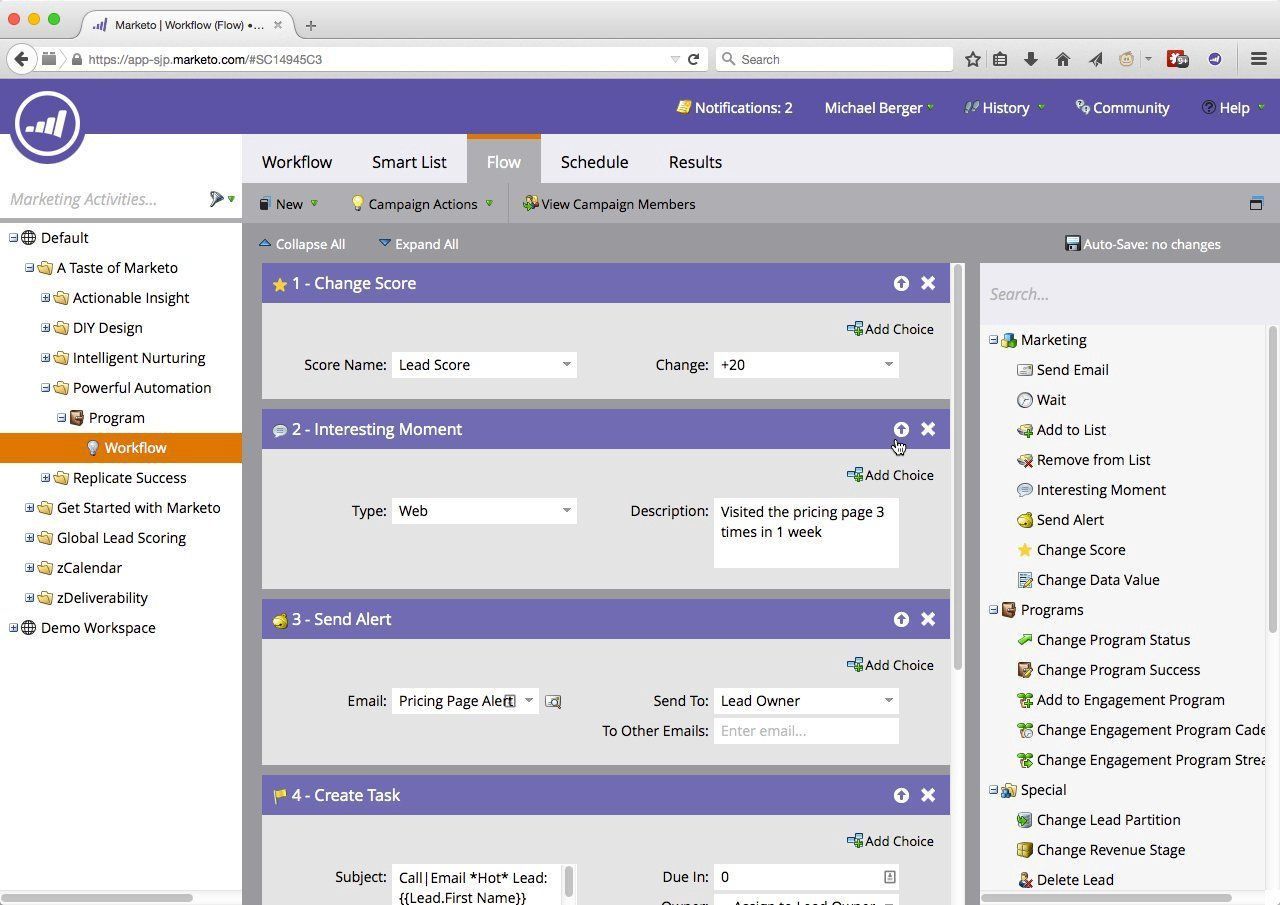 Marketo

Even though it's interface might not be pleasing to look at. Even though it might be non-responsive or REALLY slow to load times, there's still no other marketing automation software like Marketo. Period. It has its own set of quirks, but it gets the job done. Nicely and effectively.

Marketo's integration with Salesforce is second-nothing. For instance, with Salesforce integration you can see real-time notifications. This level of agility encourages transparency and accountability to create trust. Marketo also allowed features such as cloning and tokens to allow marketers to easily scale up their account-based marketing programs and properties. They do have an impressive partner network supporting a fully integrated marketing tech stack.

What work:
Robust, industry leader, endless customization and integrations, feature set

What do not:
A steep learning curve, dated interface, out of the box reporting inadequate, pricey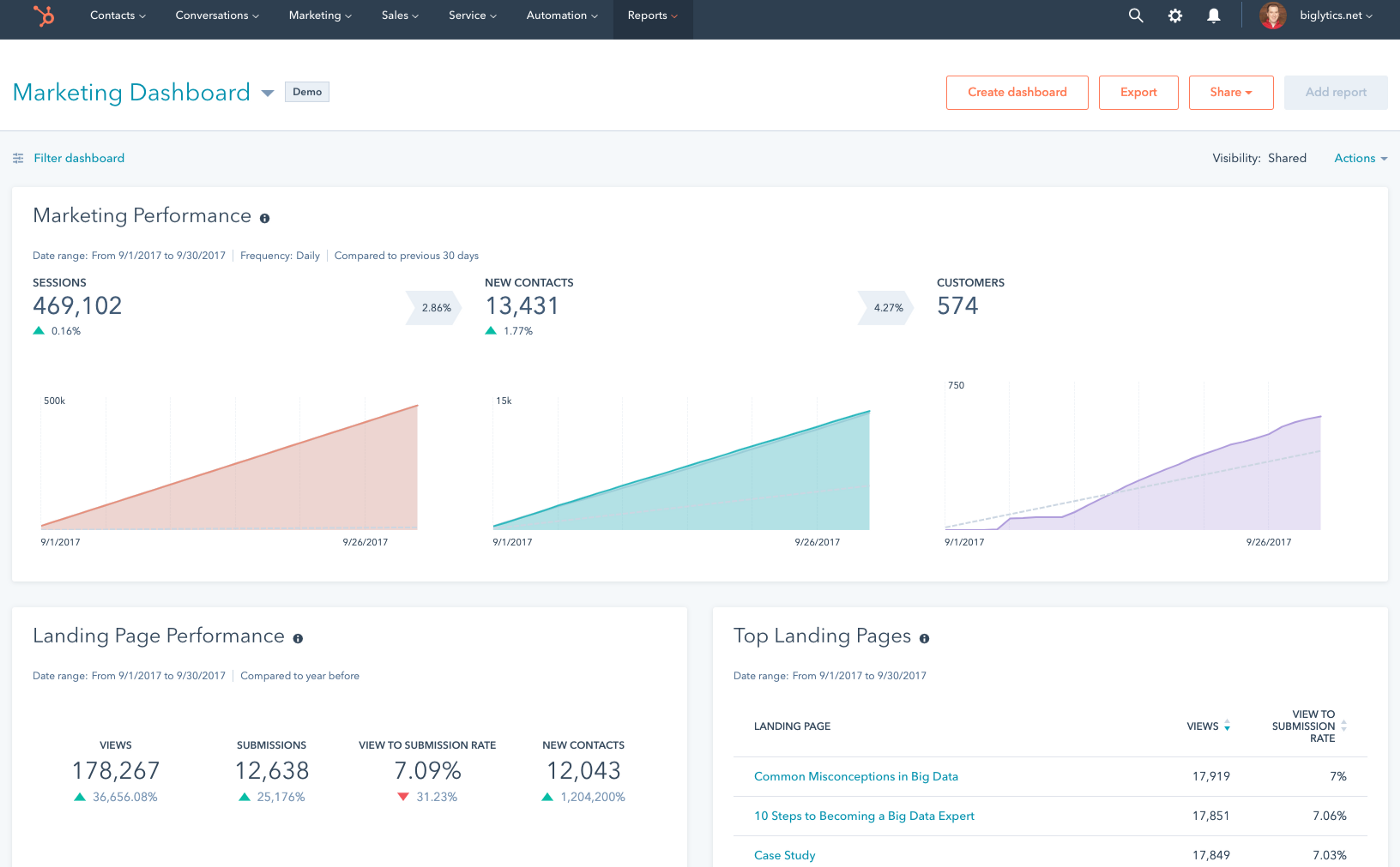 Hubspot
Hubspot is primarily an inbound marketing platform but recently it has included a decently powerful ABM feature. We believe it still might not be perfect for enterprise usage but for anything from SMBs and mid-market, it's an amazingly valuable marketing resource.

It does not just provide an overview of how all ABM programs drive revenue, it also measures the impact and performance of each target audience of ABM programs. There's still a lot of room for improvement though on ABM front.

What work:
A powerful marketing platform, intuitive UI, easy customizations, a tool that both sales and marketing guys love to use, great support

What do not:
ABM feature fairly new, not many integrations(read Salesforce), reporting not available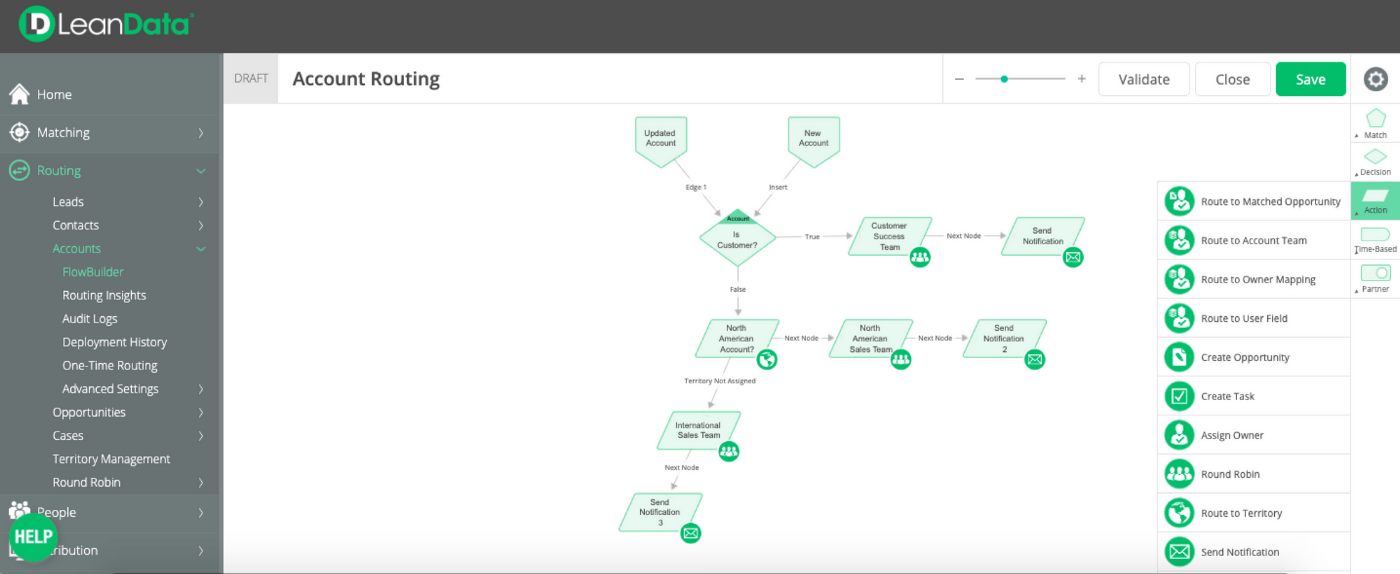 Lean Data
LeanData is a perfect instrument for dealing with route leads, contacts, and accounts in Salesforce. Implementation could be tedious but over time it can significantly improve your company's routing process.

If you are still planning to consider ABM, LeanData can have an obvious impact on your marketing objectives, through a greater collaboration of marketing and sales efforts. The Lead to Account matching is powerful and can be modified very easily. The Lead Routing is a big step up from SFDC Lead Assignments, and once you start using it, the routing control capabilities are absolutely essential.

What work:
Flexibility, Salesforce native, great workflow, L2A matching, lead routing

What do not:
Customer support for individual use cases

Engagio
Engagio is an account-based marketing tool built specifically with ABM users in mind. It will help with the creation of lead-oriented marketing strategies as well as the review of campaign performance.

Engagio Offers the best part of the product with its L2A (lead-to-account) match. The entire Salesforce account is defined by Engagio natively. Sales teams would love Engagio 's views on how their existing accounts and prospects interact with marketing material.

What work:
Full-fledged ABM suite, one of the L2A match feature

What do not:
A bit buggy, reporting not detailed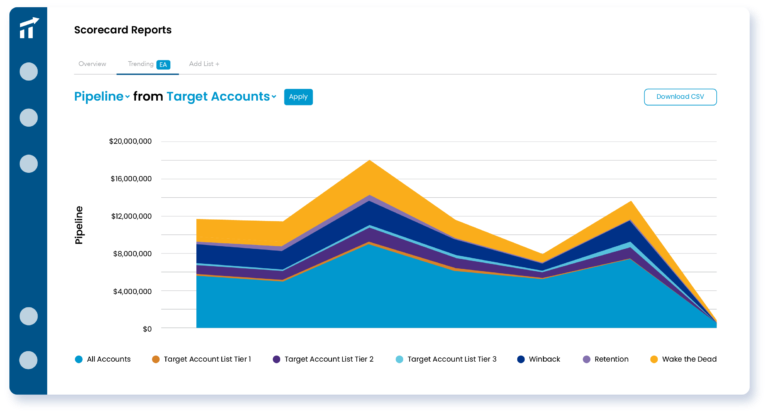 Terminus
Terminus offers a complete suite of ABM rich features like a central hub, digital marketing platform with personalized targeting of accounts, sales insights, and much more. Their unique usage of analytics-based scorecards, reporting, ROI tracking, etc form the core element of the offer. The interface is insanely simple, at least in comparison to other ABM tools. It doesn't take more than a few minutes to make a campaign live. The data return speed in 2 days is also amazing. If a campaign doesn't seem to work you can always quickly reduce your budget.

What work:
Great product, great support

What do not:
Dashboards are a hit and miss


Triblio
Triblio combines advertising based on accounts, web personalization, and sales activation to orchestrate campaigns on multiple channels on one single platform. At every stage of the purchase journey, Triblio's ABM Platform orchestrates marketing and sales campaigns.

While most ABM tools are just glorified ad management platforms with a bit of customization here and there, with Triblio you can create multichannel campaigns based on activity, intent, or priority. You can also account for sales by allowing outreach aligned with marketing strategies and buyer interest.


What work:
Account scoring, ABM ads, customizations

What do not:
Could be a bit buggy, limited dashboard

---
Worth Checking Out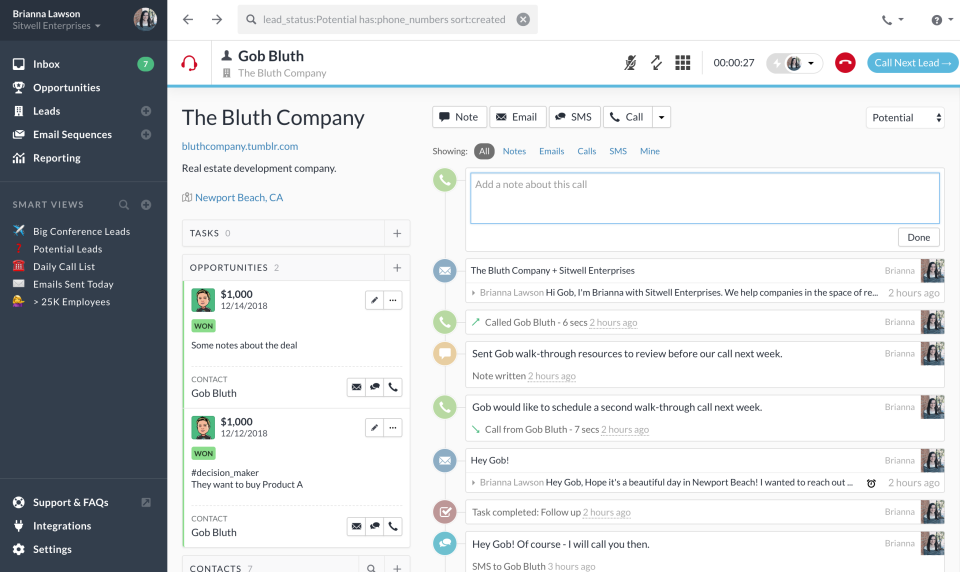 Close.io
Close is predominantly a sales prospecting tool but can be used as a nice ABM tool as well.

The auto-tracking of emails is a good standout feature of Close. As soon as you create a lead it automatically gives you insight and visibility into the follow-up effectiveness through the entire history of emails. The calling feature is great for salesmen always on the move.

One of the major benefits of Close is its flexibility to manage leads and close sales seamlessly. Anybody who is annoyed by technical challenges that affect their marketing and sales flow will find a smooth marketing process here.

What work:
VoIP dialler, simple to use, list filtering

What do not:
Not meant to be used an all in one ABM tool, Support leaves a lot to be desired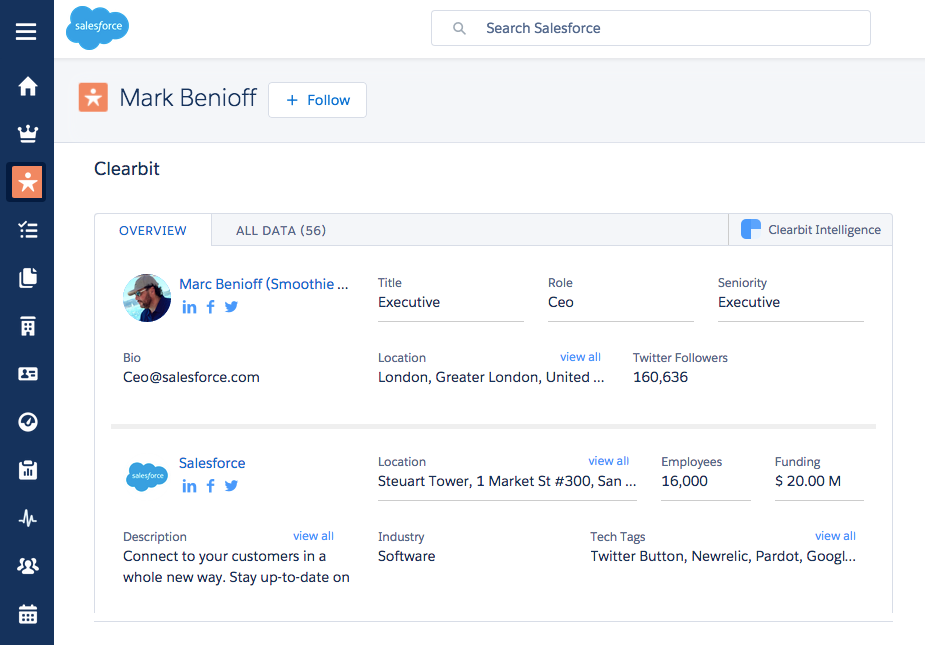 Clearbit
For all your lead generation effort for account-based marketing, you need a tool like Clearbit. The information supplied is highly accurate and enables users to find additional contacts, as well as LinkedIn profiles to collect critical information. Information that allows the setup of sales strategies that are actionable.

What work:
Lead Generation for ABM, Enrichment of Database & more. The free trial is much appreciated
What do not:
Fewer contacts in their database
---