How are manual extensions different from automatic extensions?
If you have just started advertising on Google Ads and wondering how is an automated extension different from manual extension, this little comparison should hopefully help you understand the differences.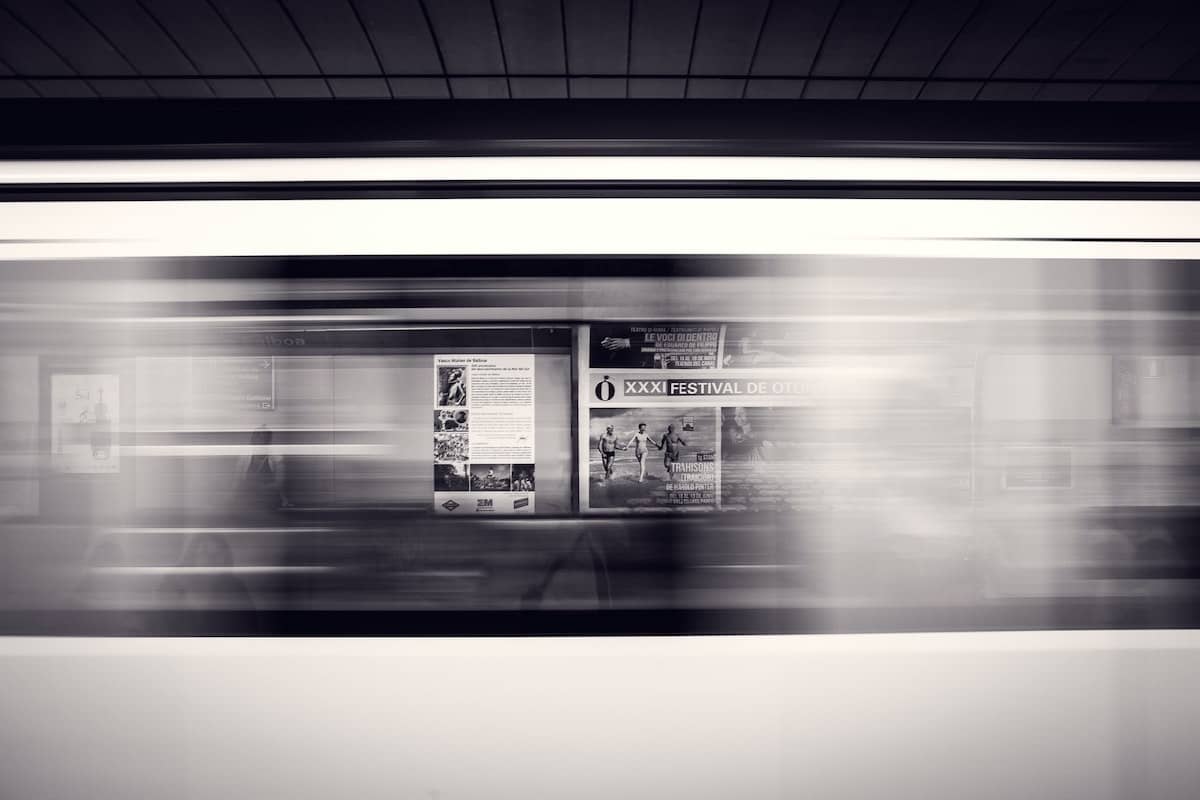 What is an ad extension?

Extensions add additional details to your ad, providing more reasons for searchers to click and select your company on the search page. By using extensions, additional business information such as an address, telephone number, customer ratings, or other links to your website can be shown on the ad.
Ad extensions can significantly improve your ad's (CTR) click-through rates. Call buttons, location details, links to various pages of your website, additional information, and many more types are included in extension formats.

Several of these extensions are manual, and you have to configure them yourself. Others are automatic, implying that they are applied automatically if the conditions you set are met. Manual extensions need a little more configuration but are suggested to use for text ads due to their customizability and ease in reporting.

How are manual extensions different from automatic extensions?
Manual extensions need a certain amount of set-up. While some extensions are added automatically when Google Ads predicts they will boost your results, —those are automated. No setup is required for automatic extensions, so when you build manual extensions, they don't show up among your choices.

Consider using any manual extension applicable to your business — extensions are free to add, and they'll only appear if they 're predicted to boost your ad's efficiency. Try adding four or more extensions. For example, you might add manual extensions like sitelinks, callouts, organized snippets, and one additional extension of your choosing. If it makes sense for your company, add manual extensions at higher account levels (for instance, at the account or campaign level, when available).

Automated extensions are also compatible with campaigns and ad groups that use manual extensions. To view which automated extensions have been added to your ads, or to delete automated extensions from your ads, first, you'll need to find them in the campaign. You can access automatic extensions by clicking the Ad extensions tab and selecting "Automatic extensions report " from the drop-down" View "menu.

Automated extensions will give you more competitive ads and thus more chances to attract new customers. If an automated extension is expected to boost your ad 's results, Google Ads automatically generates and displays it below your ad. Some automatic extensions can appear on all ad formats, but some only appear on desktop and laptop computers.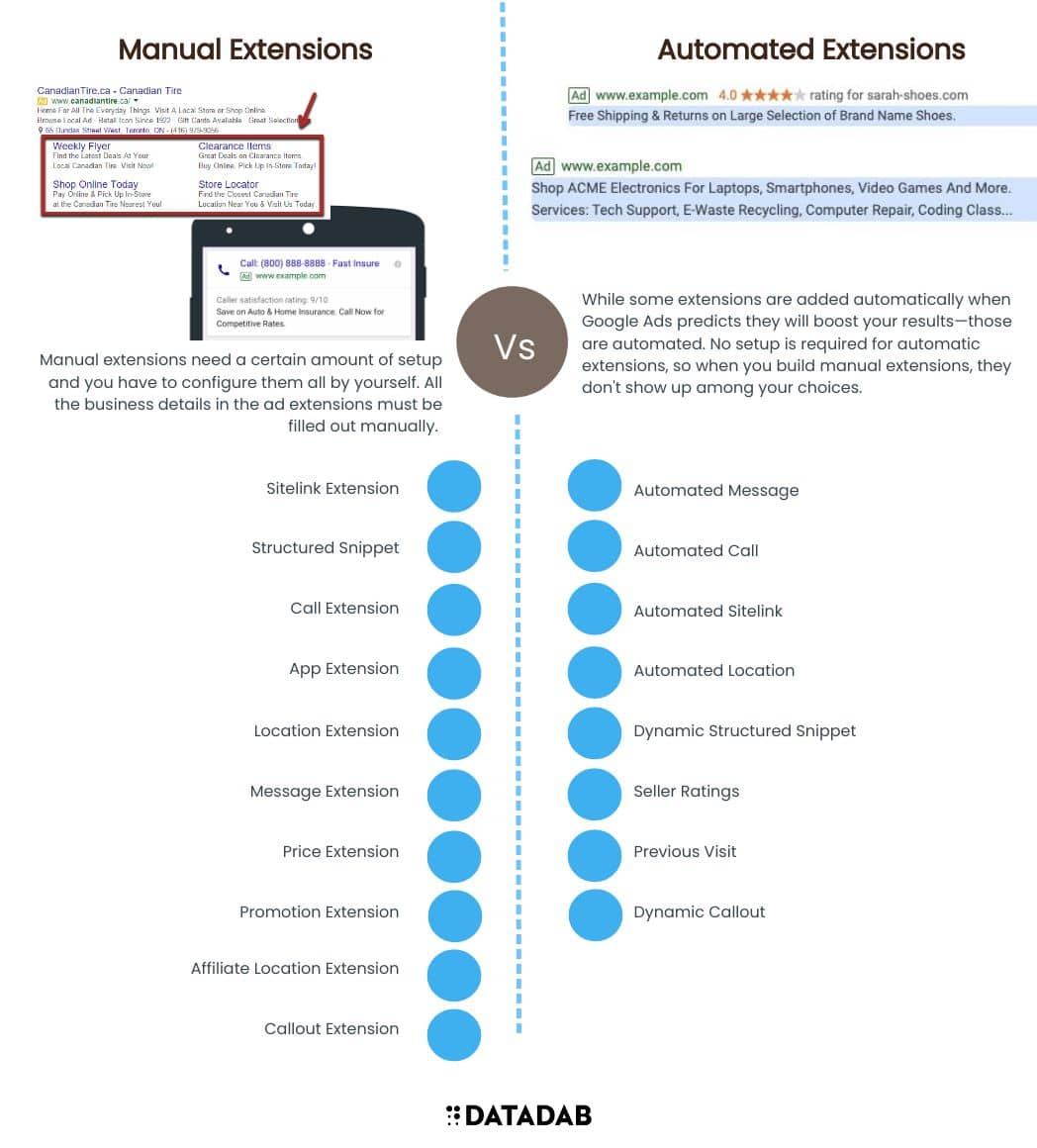 Some examples of automatic extensions:

Automated call extensions
If your website indicates that your business goals include calling people, Google Ads can set up automatic call extensions. Users will click on your extension to call your company.

Dynamic sitelink extensions
Sitelink extensions help you bring users to the right location on the website. For example, if you manage a restaurant, your sitelinks can include the following text: hours, menu, delivery.

Seller rating extensions
Seller ratings provide a combination of details and ratings next to your ads, letting people know the advertisers are highly regarded for quality service.

Dynamic structured snippet extensions
Structured snippets provide additional informative content to help customers understand the variety of goods and services your company offers.

Some examples of manual extensions:

Sitelink Extensions
Sitelinks extensions can be connected to different pages that are related thematically. A price page, reviews, or a free demo works well here, for example. For example, if you are searching for Canadian Tires, you can find the below sitelink extensions.

Price Extensions
You can better highlight your services, products, and pricing by connecting search users directly to these pages of your site. They appear on desktop and mobile text ads, showing as a set of up to 8 cards that people can view to see multiple options and prices.

Location Extensions
Location extensions help searchers locate your company. These extensions display details like your business address, phone number, and map text marker. In its own separate section, a location extension is listed that helps in increasing the overall ad size.

App Extension
You may include a link to your mobile app in your ad using app extensions. You can consider using this extension if you have an app in Google Play or Apple App Store.