Expanding your YouTube viewership beyond borders and languages may seem daunting at first. But in our interconnected world, a global audience is closer than you think. Little things like translating titles or enabling captions make a big difference in being discovered overseas.
This isn't just a growth hack to tap new markets. It's about allowing more people worldwide to genuinely understand and connect with your content.
Start by picking one language to focus on, based on analytics of current non-English viewers. Slowly expand translations over time. You don't need to do everything at once. Small incremental efforts add up.
The internet breaks down geographic barriers in unprecedented ways. With some extra effort, your channel can build a diverse yet loyal community across continents. Don't let language limitations restrain your audience.
Why should you translate Youtube videos?
Here are 3 key reasons you should translate your YouTube content:
1. Increased Discoverability
YouTube picks up keywords from video titles, descriptions, subtitles, and captions. Translating these elements makes it possible for foreign viewers to find your content in searches in their own language.
For example, a Spanish speaker looking for gaming videos would be unlikely to search for the English keywords "walkthrough" or "let's play". But they may search for Spanish equivalents like "guía" or "jugando".
Translated metadata allows your video to appear for relevant queries in multiple languages.
2. Broader Audience Reach
Enabling subtitles and closed captions breaks down language barriers preventing new viewers from watching your videos.
In a Harris poll, 51% of viewers said they would be more likely to watch a video again if it had subtitles in their native language.
You can leverage translated captions to boost viewership among non-English speaking populations.
3. Improved Accessibility
Captioning also caters to hard-of-hearing viewers or environments where audio is unavailable.
The same Harris poll found 72% of respondents rely on captions when in loud places and 68% use them to better understand fast dialogue.
Translations allow more people to enjoy your content regardless of their circumstances. They demonstrate that inclusion and accessibility matter to you.
But how do you know if your YouTube channel is ready for a global audience?
Start by reviewing the "Create an audience" tab in YouTube Analytics to see where your audience is coming from. When you see loads of watch time coming from countries whose people speak languages other than your own, and you think your content will be interesting to them, check out the translation options on YouTube.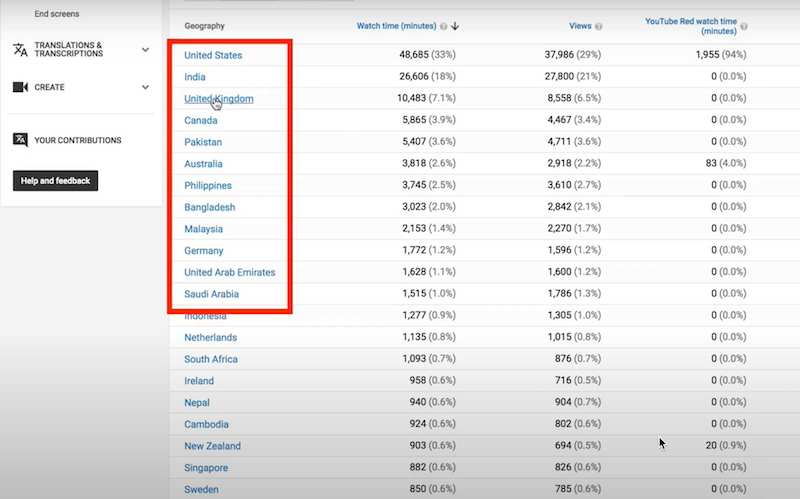 What are CC and Subtitles?
CC or Closed captions are written transcripts of a video displayed visually on the computer. You will extend the reach of your channel by offering viewers the option to read words rather than just listen to them. In some languages (English, Dutch, French, German, Italian, Japanese, Korean, Portuguese, Russian, and Spanish), auto-generated captions are also available, and viewers can turn them on and off.

Subtitles, on the other hand, are translations of closed captions. You can offer the option of translating the spoken words to viewers who don't speak the same language. Through "Community contributions," you can crowdsource the translation or write and translate it yourself.

Translated titles and descriptions allow making your videos more discoverable by viewers who speak foreign languages as they are indexed in the search results. The best way is to translate the title and description and also have matching subtitles in the same language.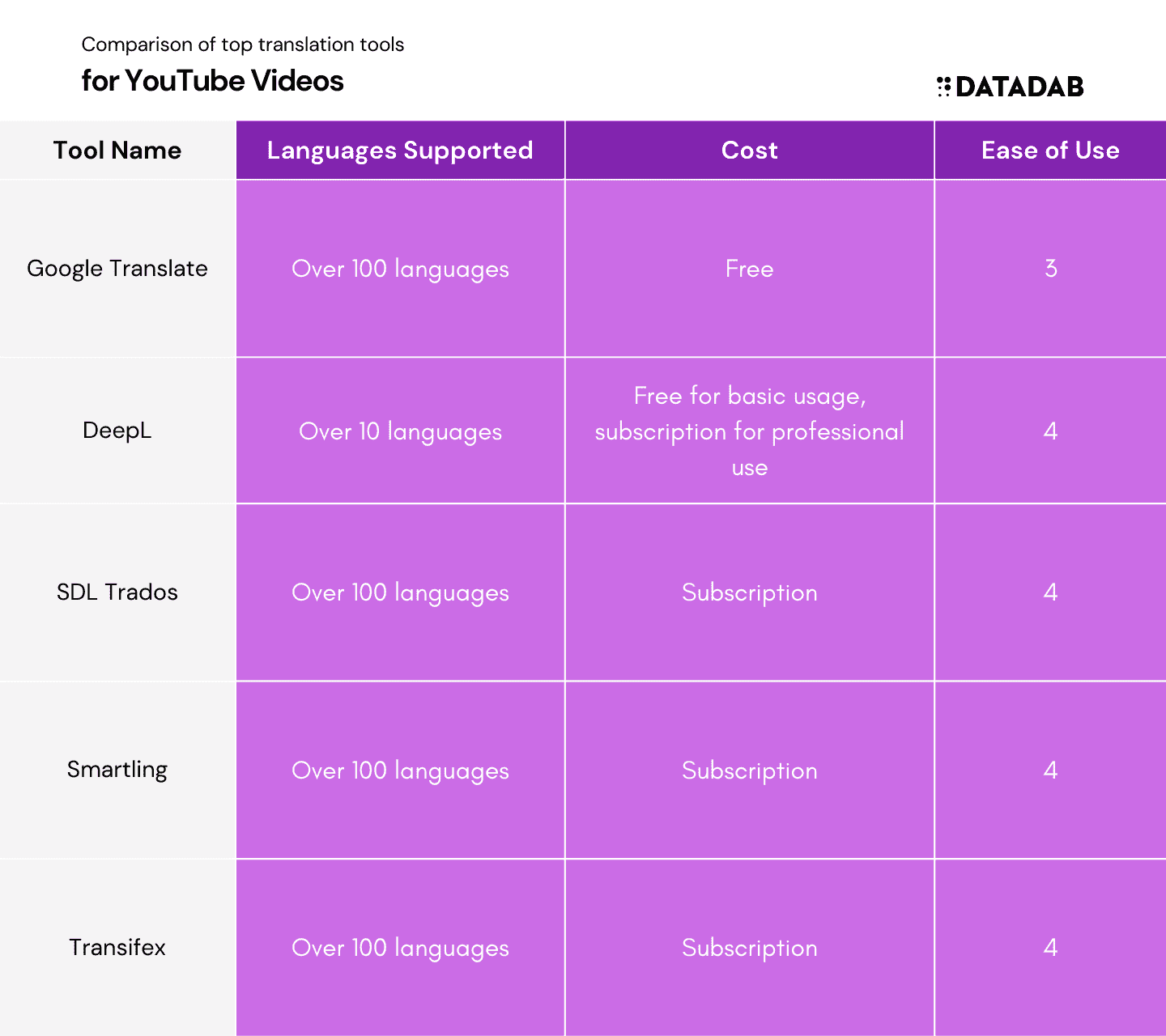 So how to translate my videos?

There are two ways to do that.

1. Either you yourself take charge of it all and start using Google Translate or some agency or an individual to translate captions, titles, descriptions, and subtitles for your videos.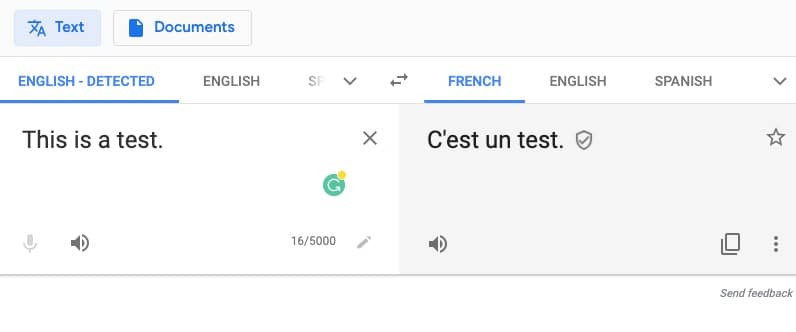 2. Or, you take help from the community. Your viewer community can help you reach a broader audience by adding title, definition, subtitles, and captions to your videos. When you have the same language captions, your community will send translations to help you reach a global audience. You can manage that content by reading, editing, posting, flagging, or rejecting it. Your community can also evaluate the content, and it will be automatically published when it receives enough reviews.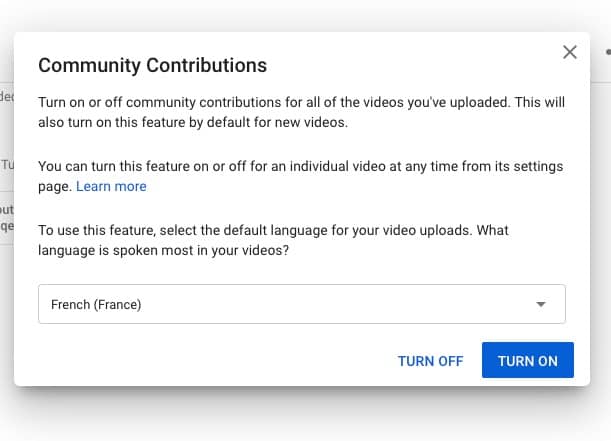 Relying on your viewers community is a great way to get your videos translated into other languages. The only downside is the process is slower than you'd like.

Adding own subtitles and closed captions
Login to your YouTube Studio. On the left sidebar, choose Subtitles.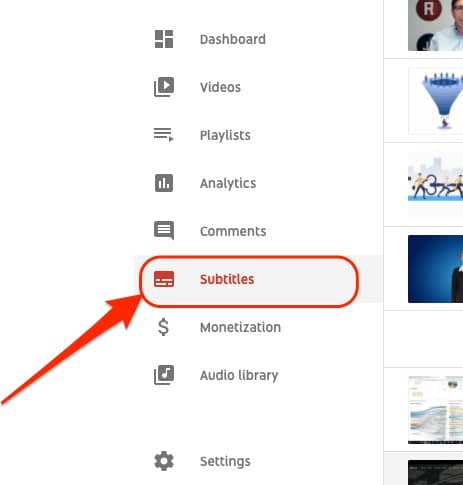 Select the video you want to edit. Click add language and pick your language. Click ADD under subtitles.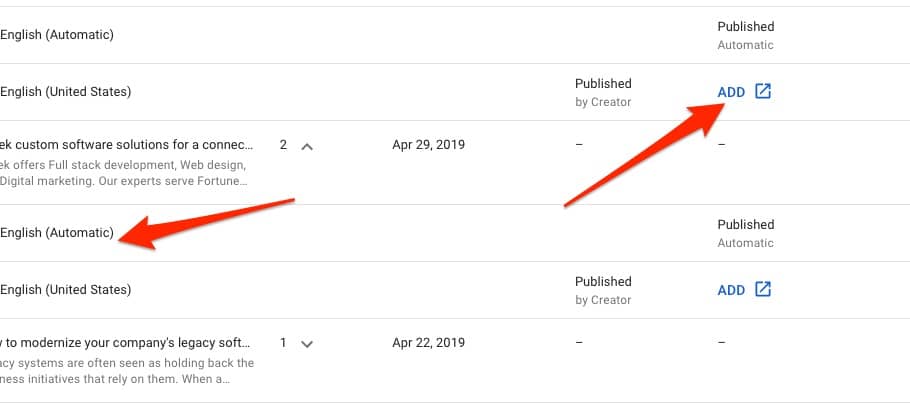 Go ahead, play, and pause your video and add captions accordingly. Don't forget to add text explaining other video sounds like [applause] or [thunder], so viewers know what's happening in the video. Repeat the same steps for additional captions, then publish.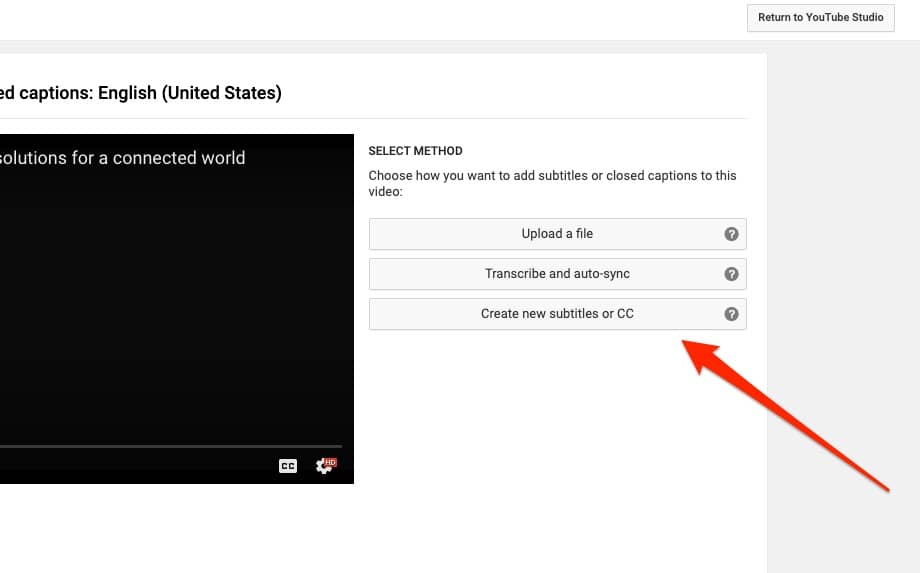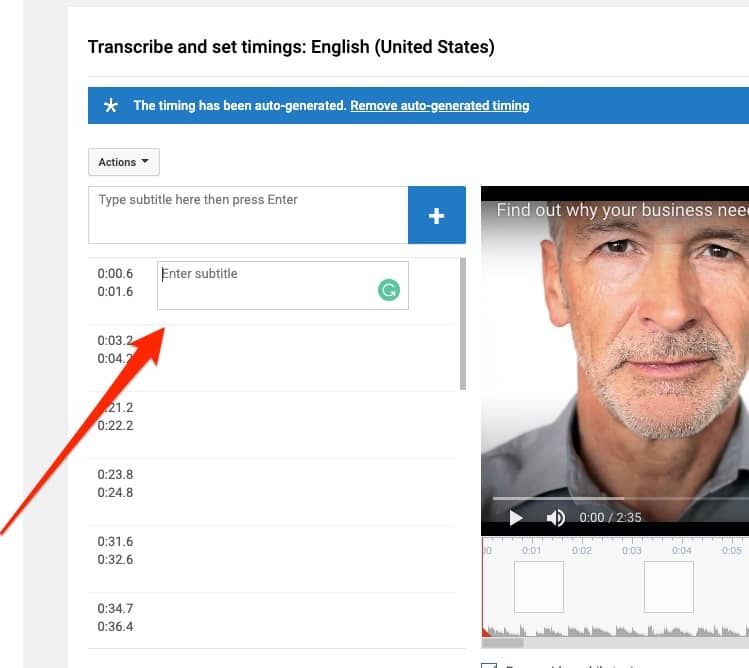 Uploading the subtitle and captions file

If you have a subtitle already, you can add it to your video. These types of files contain both the text and time codes for when to view each line of text. Some files also include information about the position and style, which is particularly useful for viewers who are deaf or hard of hearing.

Make sure that your file form is supported on YouTube before starting.

SRT is one of the most common subtitle formats, and this is how it looks like: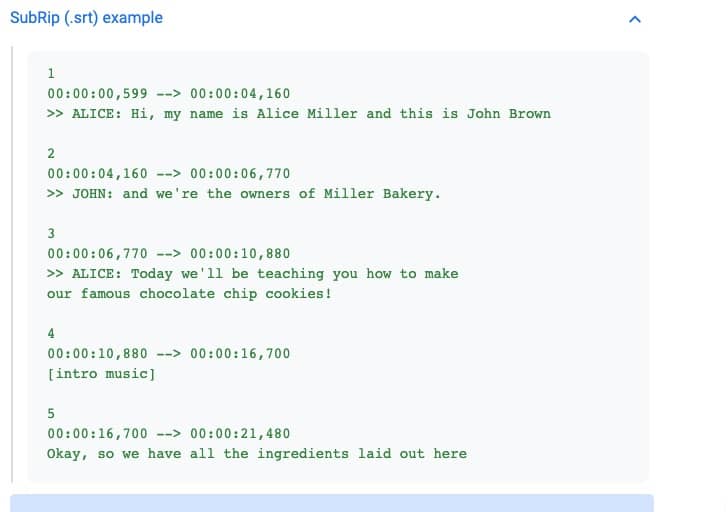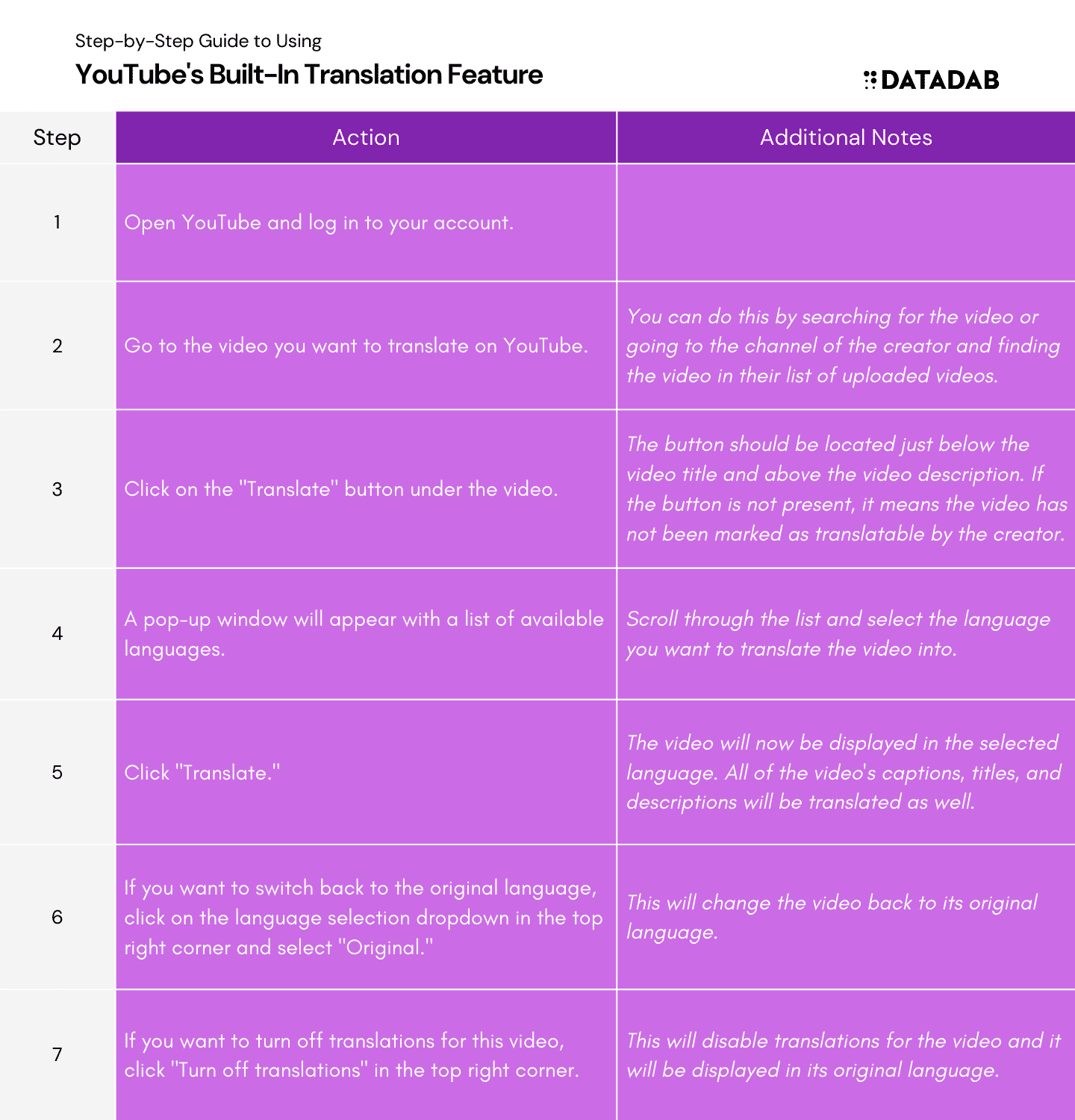 Automatic captions
Automatic captions are available for these languages: English, Dutch, French, German, Italian, Japanese, Korean, Portuguese, Russian, and Spanish. So if your video is in any of the above languages, you can make use of this feature. It's pretty useful as its quite accurate, and it saves you a lot of your time.
Translating video titles & descriptions
You should also add video titles and descriptions so your audiences can find the videos in their own language.

Login to your YouTube Studio. On the left sidebar, choose Subtitles. Select the video for which you want to add the translated title and description. Choose the language you wish from the dropdown. For instance, in the example below, I selected French. Under the "Title & Description" field, select Add. Go to Google Translate, get the translated content and enter the new translated title and description, and select Publish. That's it. Simple, isn't it?
---
FAQ
1. What are the benefits of translating my YouTube videos?
Translating your YouTube videos opens up your content to new international audiences. This can significantly increase viewership, subscribers, watch time, and revenue. By removing language barriers, translations allow more people globally to enjoy your videos. It also makes you discoverable to foreign language speakers searching YouTube in their native tongue. Overall, taking the time to translate videos and metadata helps future proof your channel for sustainable long-term growth.
2. What parts of my video should I translate?
At a minimum, translate the title and description into targeted languages. To take it further, add subtitles and closed captions in multiple languages. Translating just these elements makes your videos accessible to more viewers. For maximum impact, also localize thumbnails, tags, end screens, and channel-wide info like descriptions and playlists.
3. Should I use machine translation like Google Translate?
While convenient, machine translation alone often produces low quality, unnatural results. Instead, use it just as a starting point, then have bilingual humans review and improve the translations. Hiring professional human translators, ideally with experience in your niche, leads to the most accurate and engaging localized content.
4. How do I create subtitles and closed captions?
YouTube provides built-in tools to add subtitles and closed captions. Enable auto-generated captions first, then download them to be translated. For better accuracy, add captions manually while watching your video or use a transcription service. Remember to thoroughly proofread before publishing translations. You can also crowdsource contributions from your viewers community.
5. Which languages should I prioritize?
Check your Analytics to see which countries currently drive the most views. Target languages where you already have an audience first. Also consider translating into languages with significant global reach like Spanish, Hindi, Arabic, Portuguese, Russian, and Bengali. Start with 1-2 languages and expand over time.
6. How much does it cost to translate videos?
Costs vary based on the language, length of videos, number of translations needed, and provider rates. On average, translating subtitles costs $0.15-$0.20 per word. Translating metadata like titles and descriptions costs $0.10-$0.15 per word. Shop around for best value rates balanced with quality.
7. How do I find a good translation service?
Look for providers using native human translators familiar with your niche. Seek project managers who proofread for consistency. Check reviews and samples first. Ask about their subtitling and captioning experience. Prioritize secure practices and confidentiality. Negotiate volume discounts for ongoing work. Compare multiple quotes before selecting.
8. Should I promote my translated videos?
Absolutely! Add translated titles, descriptions, and tags to help them get found in local searches. Engage international creators for collaborations to reach new audiences. Share localized content on global social networks. Run multilingual ads. Respond to foreign language comments. Treat each language market uniquely in promotion efforts.
9. How long does the translation process take?
The end-to-end process can take 1-2 weeks depending on factors like order size, content length, number of review rounds, provider capacity, etc. Use a service with fast turnaround times if releasing translations quickly is a priority. For manually created captions, allot time to transcript videos before sending for translation.
10. How can I measure the results of translations?
Use YouTube Analytics to track views, watch time, subscribers, and revenue from different countries after launching localized content. Look for uplift in search impressions and clicks in non-native languages. Poll international viewers for feedback on translations. Monitor social and comments for engagement spikes in target regions. Ultimately, translate consistently over the long term and watch international reach grow.